Devil's Ride by Nikki Landis

My rating: 5 of 5 stars

"Knees in the breeze was a way of life and not just a slogan."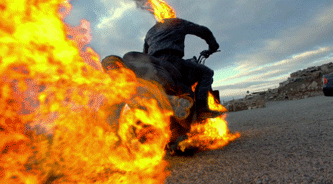 The following ratings are out of 5:
Romance: ♥️🖤💙💜
Heat/Steam: 🔥🔥🔥🔥
Story/Plot: 📙📕📗📘📙
World building: 🌎🌏🌍🌎🌍
Character development: 🤕🤬🤯😲😍

The heroine: Tricia Holloway (a.k.a. Trish) – lives in Tonopah and works at a local bar with her friend Suraya. When she was a child, her family was driving when they came across an injured biker on the side of a Nevada road. While her parents were fighting over helping the potentially dangerous biker, Trish got out of the car and gave the injured man her teddy bear to protect him.

The Hero(es): Dexter Lanford (a.k.a. Grim) – President of the Royal Bastards MC and the OG Reaper (Grim the Reaper) from the club who first made a deal with the devil after being captured by a rival MC along with the former President and SAA who were both tortured and killed.

The story: After Grim escaped the Scorpions MC and made a deal with the devil, he was injured on that Nevada highway and his Father figure, Keys had just died when a car pulled up and a little girl got out. While her parents were afraid of the injured biker, Trish walked right up to him and spoke to him, giving him her prized possession because he needed it more than she did.
Grim never forgot Trish and vice versa, so 18 years later when they see each other across the bar where Trish is a bartender, they recognize each other immediately. They start to date but circumstances keep coming between them. The Royal Bastards MC and the Scorpions MC still have unfinished business from 18 years ago and the RBMC is also dealing with the black market railroad.

The black market railroad is a human trafficking ring run by the Russian Mafia and they use a bunch of smaller MC's like the Scorpion's to help kidnap and move the girls out of the country. This storyline started in the previous book Ridin' for Hell and continues into this book, The two books taking place in the same timeline of events.

I am really enjoying storylines in this series and though they can be brutal, the world of the one percenters seems to be the right place for that kind of story. I also really like the supernatural aspect of the story, and the fact that it is just a side aspect and not the whole story. What I mean by that is that though the guys can go all "Reaper" on their enemies, when pulled into a corner. They don't just go out an supernaturally eliminate anyone who might pose a threat.

I voluntarily read & reviewed an advanced copy of this book. All thoughts & opinions are my own.

Blog|Goodreads|Facebook|Instagram|Twitter|BookBub

View all my reviews