Hell's Fury by Nikki Landis

My rating: 5 of 5 stars

"When my Reaper rides, I will conquer all."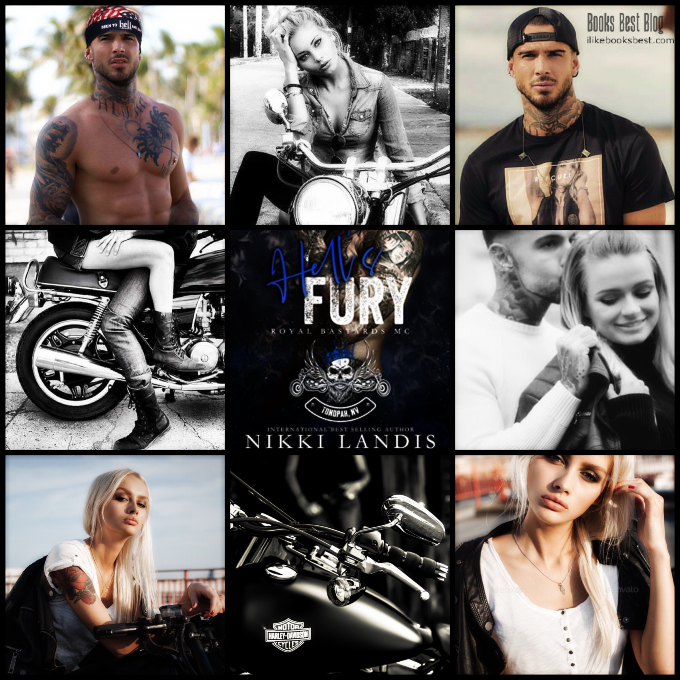 The following ratings are out of 5:
Romance: ♥️🖤💙💜💛
Heat/Steam: 🔥🔥🔥🔥
Story/Plot: 📙📕📗📘📙
World building: 🌎🌏🌍🌎🌍
Character development: 🤕🤬🤯😲😍

The heroine: Naomi (a.k.a. Trixie/Mimi) – sister to Nylah from Ridin' to Hell, Naomi was first introduced in that book. She was an addict who was trafficked and abused by Alexi Voltoy who was a nephew to Solonik, the man in charge of human trafficking for the Russian Mafia.

The Hero(es): Dale Dixon (a.k.a. Patriot) – Former military, he still has some PTSD from his last tour in the desert and once woke up choking the woman in his bed. He is a member of the Royal Bastards, MC and has a Reaper inside of him. The reaper can remove a soul from a living human and send it down to the devil to suffer for eternity.

The story: Patriot meets Naomi after his brother Rael saves her from a group of guys who raped and nearly burned her to death on orders from Alexi. He feels an immediate connection with her from the minute he sees her and she feels the same though after years of abuse she has trouble trusting anyone.
The storyline with the Bloody Scorpions MC and the human trafficking was a good one. There is a new Russian in charge by the name of Resnikov and he is badder than the other two put together. Plus there is another guy, Sean that worked with Alexi that is out to get Patriot and Naomi.

This book has a lot of action and thrills and makes me want to read every book in the series. The romance was terrific and the supporting characters are awesome. I can't wait to hear more about Wraith and Shadow in the next few books.

I voluntarily read & reviewed an advanced copy of this book. All thoughts & opinions are my own.

Blog|Goodreads|Facebook|Instagram|Twitter|BookBub


View all my reviews