Above All Else by Dana Alison Levy
5 out of 5 stars.
Expected publication: October 13th 2020
It's not where you're going, it's how you get there!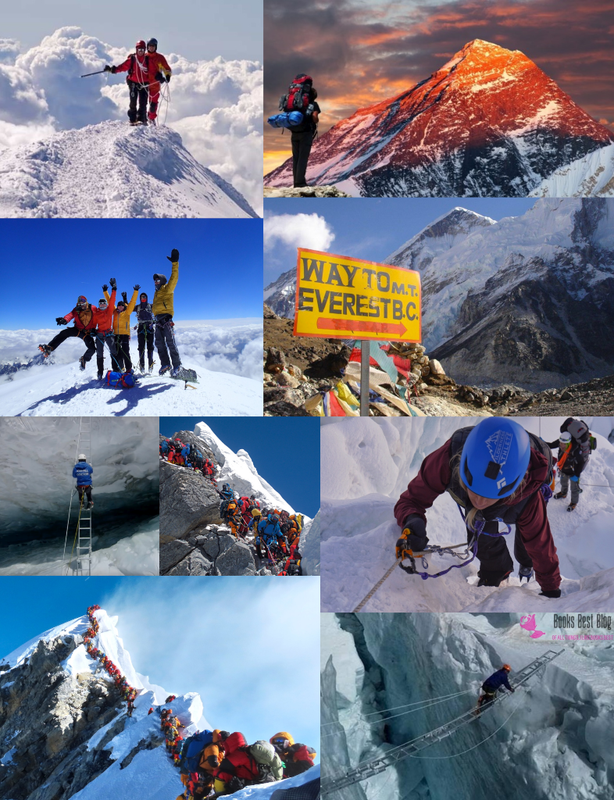 There are many ways to say it, "it's not the destination, it's the journey" or even more appropriate in this case, "it's not the mountain, it's the climb"! Whichever way you say the phrase, it describes this book perfectly. The book is about best friends Tate and Rose who have been climbers since they were very young. Tate's Dad initially started bringing them to an indoor rock climbing facility and they loved it so much they moved on to bigger and bigger mountains.
Rose's mother (Mami) was also one of the foursome of climbing partners and she was the driving force behind their trip to Everest once they decided that they wanted to climb it in the future. They decided they would during the second half of Tate and Rose's senior year (since climbing season on Everest is a short window beginning in March of each year). They held weekly car washes, bake sales, you name it to earn the money for travel and climbing, not only Everest but several of the highest peaks all over the world.
On their last winter climb, Rose's Mami was feeling tired and sick and they couldn't figure out what was wrong with her. It was determined she wouldn't go, but Rose is dealing with worry over her Mami's illness and with her feelings of guilt for the fact that she is making the trip to Everest, while her Mother can't. It's the trip of a lifetime and Rose is filming everything she can so her Mother almost feels like she was there.
Tate is dealing with quite a bit of his own issues during this expedition. He recently had a slipped while climbing Mt. Rainier and if his ice axes wouldn't have dug into the side of a cliff he would have fallen to his death. As it was he broke his arm and lost his nerve. This is especially hard on Tate, because he is not a stellar student like Rose, who has already been accepted into Yale. Tate has only been accepted to city college so far and he constantly gets lectured by his Dad about not trying and not living up to his potential.
Climbing was the one thing Tate did and he did it very well. The fact that Tate no longer thinks the climbing is worth the risks, forces him to take a good look in the mirror and he no longer knows who he is. He is searching for an identity. In the midst of all this, Tate and Rose kiss for the first time. They have been friends forever and neither had even thought about the other as more, but all the sudden that is all they can see. The sexual tension is crazy and the furtive looks and staring between these two is all "first time love" romantic.
The book is about relationships, tough issues and coming into your own. Like I said earlier, it is about the climb, not the mountain. The journey is the thing and the world building is spectacular. We see each supporting person as individuals with their own personality, from Tate's father, to the asian woman climber Yoon Su, who came from a boarding school in Switzerland and befriended Rose to the frenchman Luc and the sherpas. You can hear the traffic in Kathmandu feel the thinning air and smell the Yaks loaded with supplies as they move towards base camp.
Since I first read Jon Krakauer's Into Thin Air, I have been fascinated with Everest. The danger, the weather during the climbing season, and especially those Ice Falls in the glacier that can move and change. I can't even imagine trying to cross a crevasse on top of a bunch of aluminum ladders tied together. So one wrong move and you are done. What is even crazier is how the sherpas put up those ladders and ropes over the crevasse's and throughout the ice fall each year. the scenery and atmosphere is perfectly described and I really enjoyed every bit of this tough climb.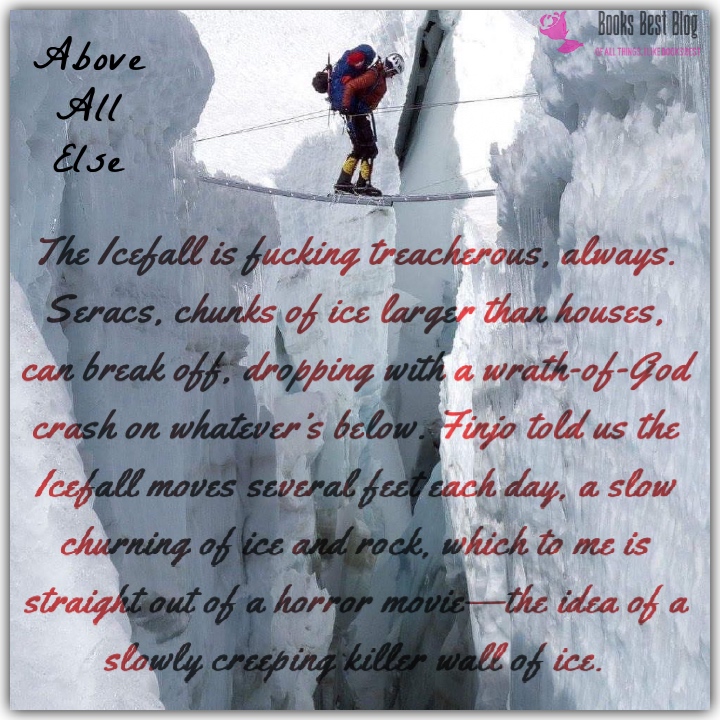 I voluntarily read & reviewed an advanced copy of this book. All thoughts & opinions are my own.