Hidden World Academy: The Complete Series by Sadie Moss

My rating: 5 of 5 stars
A whole new world!
"My mouth goes dry, and all I can think of is that I somehow fell down an open manhole and ended up in Harry Potter. Although actually, it would be really great if this was Hogwarts, because at least that way I would've read all the books and could fudge my way through things."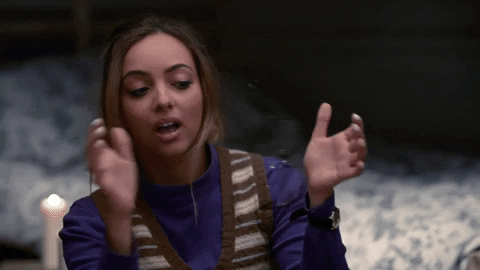 The following ratings are out of 5:
Narration: 🎧🎧🎧🎧
Romance: 🖤💜🤎💚💛
Heat/Steam: 🔥🔥🔥🔥🔥
Story/Plot: 📙📕📗📘
World building: 🌎🌏🌍🌍🌏
Character development: 😍😕🙃☺️🤩
The heroine: Gabbi (a.k.a. Roxie, a.k.a. Cupcake) – Gabbi is a normal college student from Baltimore with middle class parents who gets drunk one night and falls into what looks like an open manhole in the street and wakes up in a parallel dimension where she is thought to be a rich girl named Roxie that excels at Magic school.
The Hero(es): Cassian – TA for the history professor at Magic school/University. He is the hot TA that all the girls want and he hooked up with Roxie in the past and Gabbi has trouble keep her hands off him.
Theo – Lives in the dorm across the hall from Gabbi/Roxie and likes to hit on her, sometimes he is just being a flirt, but other times she thinks he is series. He is British and gives her some much needed smiles.
Cross – He was Roxie's main competition in school and they treated each other like enemies. Though he was the first to figure out that Gabbi isn't Roxie and help her.
The story: Gabbi literally fell down the Rabbit man hole and woke up in another world. It wasn't wonderland, but there was magic, magical creatures, an super hot warlocks. Gabbi is a human in a magical world and she doesn't want to get caught and possibly jailed or brought to some lab to be for all sorts of experiments if anyone finds out she is from "the dull world" as they refer to her dimension.
I liked this series. The storylines were extremely good and the reverse harem was super steamy. I liked that each guy was quite different and the guys weren't even friends to begin with, weren't used to sharing a girlfriend, but became good friends throughout the series.
One thing that bugged me about the writing was it seemed like a lot of times, when describing a situation or feelings or whatever, the same exact thing would be described like three times using different words in the same scene. Some themes would be described over and over throughout the books. I can understand that since this was a series, she would reiterate things that happened in the last books again at the beginning of the next, but thoughts and feelings were stated numerous times and not just at the start of a book.
As for the narration, it was great except that the series was all told from Gabbi's POV and I would have liked having multiple POV's. I would have liked to hear the guys POV's. I think that way all the things that were repeated wouldn't have seemed to be repeated because they were seen in different POV's.
Overall this was a great steamy reverse harem fantasy novel and I always like Fantasy when it is a normal heroine that is put in a paranormal world or situation. So I give it two thumbs up for that! 👍👍
Blog|Goodreads|Facebook|Instagram|Twitter|BookBub