Mile High with a Vampire by Lynsay Sands

My rating: 5 of 5 stars

Immortal (a.k.a.Vampire) fated mates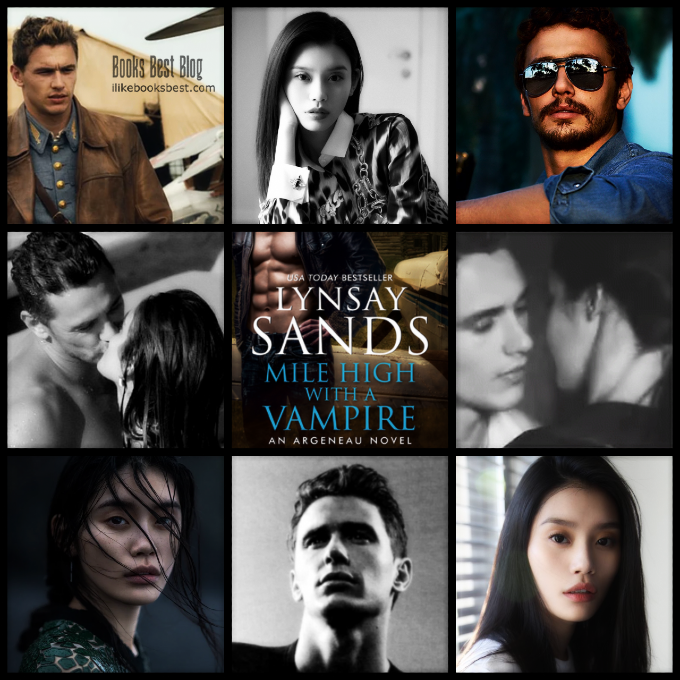 The following ratings are out of 5:
Romance: 💋💋💋💋💋
Heat/Steam: 🔥🔥🔥🔥
Story/Plot: 📙📕📗📘📙
World building: 🌎🌏🌍🌏🌎
Character development: 👨🏻👱🏻‍♀️🧔🏻👩🏻👱🏼‍♂️

The heroine: Quinn – a former cardiothoracic surgeon, Quinn was turned into an immortal four years ago after her husband was turned and then attacked both her and her son. Quinn was in a bad state after she was turned and found it all hard to deal with.

The Hero(es): Jet – he is a former Navy pilot who now works for the Argeneau Corporation as a corporate pilot that transports immortals from place to place. Though he is a mortal, through his job he is aware of immortals.

The Story: While on a flight from Italy to Canada, the plane crashes, the pilot dies and several of the immortal women are hurt very bad. The only way for their immortal bodies to heal is to take in large amounts of blood so the nano's in their bodies can start repairing the injuries. However, the only source of blood is Jet. Quinn has to get him to safety before the immortal women in that state of blood lust are able to tear him apart.

As Quinn reflects back on her marriage and he husband, he always seems to come back wanting in comparison to Jet. Quinn's husband Jack seemed to be a selfish, self-centered, and controlling man who tried to compensate for his own low self esteem by keeping Quinn down as much as possible. While Jet is fully confident and able to admit when he needs help from Quinn since she is immortal and he isn't.

I also like that fact that new life mates are so unused to the shared pleasure they experience when they are intimate that they both literally pass out right after the big "O". And it kills me that immortals hate the fact that some people call them vampires when they are not. They just can't be killed unless they are burned to death or beheaded and the head is kept apart from the body for too long.

"They called themselves, and now her, immortals, but that felt like little more than a nicety to her. To her way of thinking, if it walked like a duck and quacked like a duck, it was probably a duck, and much to her distress she now had fangs and needed to take in blood to survive—a vampire."
The story was a good one and I especially liked the way Quinn came around to realizing that her dead husband wasn't as bad as she initially thought and how she bore a lot of the blame herself. For a while during the story I saw her as weak, despite how she helped Jet after the plane crash and was glad there was eventually a reason for that and she ended up a very strong character.
Blog|Goodreads|Facebook|Instagram|Twitter|BookBub