Title: The Reed Security Relationship Manual
Series: Reed Security Series #27
Author: Giulia Lagomarsino
Release Date: May 10, 2021
This is the 27th book in the The Reed Security Series, and they should be read in order.
The book you've all been waiting for! All the advice the men have given to each other, all written down in one relationship manual, along with a fun adventure to go along with it! What happens when the men rush to finish the manual, the women find out and write their own, and the ladies go off on another adventure of their own? Nothing good.
How To Successfully Navigate Women's Questions About Their Bodies
When asked if a pair of jeans makes your woman look fat, there are so many ways to get this wrong. You need to be sure that your answer doesn't lead to more questions or make her question your answer in any way. The more questions asked, the more you'll fumble.
Do not make eye contact. Look over her shoulder, but appear to be looking right in her eyes.

Never EVER look at her jeans. There will inevitably be a pause while you look, which will only lead her to believe that you're really trying to figure out if she looks fat.

Avoiding eye contact all together is also a very bad thing. You must look her way. Not looking will make her think that you don't want to answer the question. Which, of course, you don't want to, but you have to so that she doesn't kill you.

Making jokes about her weight is a no-no. You may think that you're trying to relieve the tension, but you're really just making her seethe inside.

Refusing to answer is just like saying that she's fat.

If she asks if she looks like a stuffed sausage, immediately answer no. Again, laughing or refusing to answer will not make her feel confident.

Asking her to turn so you can check her out from all angles is as good as admitting there's a problem, but you're trying to determine how bad it is.

Finding her another pair of pants will end badly for you.
Now, that being said, there are other areas of her body that you can definitely check out as you answer. In fact, enthusiasm is greatly appreciated. For example, are my boobs too big?
Hell no! Your boobs are huge and I love them that way!

God, I'd love to motorboat you right now.

Throwing out a 'I love your tits' can never end badly.

Cupping her breast while muttering 'fucking perfect' will end in bed or with a blow job. I'm just saying…
Sinner (Reed Security Series #1)
Cap (Reed Security Series #2)
Cazzo (Reed Security Series #3)
Knight (Reed Security Series #4)
Irish (Reed Security Series #5)
Hunter (Reed Security Series #6)
Whiskey (Reed Security Series #7)
Lola (Reed Security Series #8)
Ice (Reed Security Series #9)
Burg (Reed Security Series #10)
Gabe (Reed Security Series #11)
Jules (Reed Security Series #12)
Sniper (Reed Security Series – Book 1 of a 3 Book ARC)
Jackson (Reed Security Series – Book 2 of a 3 Book ARC)
Chance (Reed Security Series – Book 3 of a 3 Book ARC)
Phoenix Rising (Reed Security Series #16)
Alec (Reed Security Series #17)
Storm (Reed Security Series #18)
Wolf (Reed Security Series #19)
A Mad Reed Security Christmas (Reed Security Series #20)
Rocco (Reed Security Series #21)
Coop (Reed Security Series #22)
TNT (Reed Security Series #23)
Nightingale (Reed Security Series #24)
Parker (Reed Security Series #25)
GoodKnight (Reed Security Series #26)
I'm a stay at home mom that loves to read. Some of my favorite titles are Pride and Prejudice, Harry Potter, Lord of the Rings, and Horatio Hornblower. I started writing when I was trying to come up with suggestions on ways I could help bring in some extra money. I came up with the idea that I could donate plasma because you could earn an extra $500/month. My husband responded with, "No. Find something else. Write a blog. Write a book." I didn't think I had anything to share on blog that a thousand other mothers hadn't already thought of. I decided to take his challenge seriously and sat down to write my first book, Jack. I was surprised at how much I enjoyed writing. From there, the stories continued to flow and I haven't been able to stop. I hope my readers enjoy my books as much as I enjoy writing them. Between reading, writing, and taking care of three small kids, my days are quite full.
The Reed Security Relationship Manual: A Reed Security Romance by Giulia Lagomarsino

My rating: 5 of 5 stars
Hilarity ensued!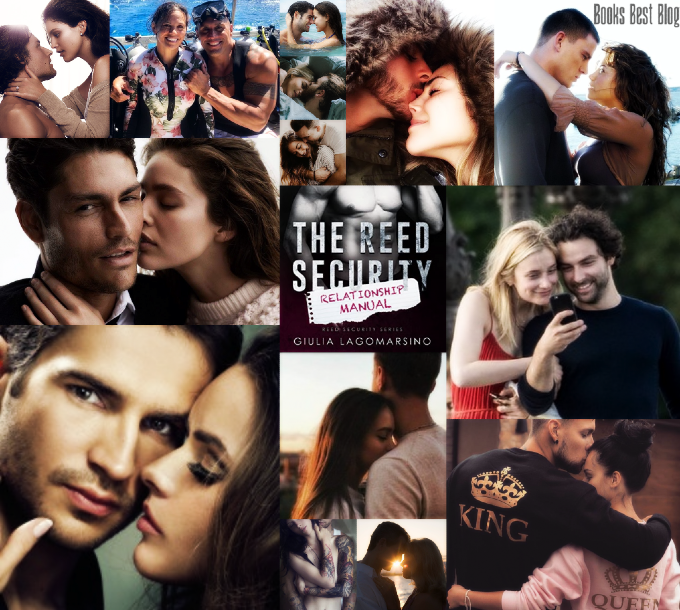 The following ratings are out of 5:
Romance: ❤️💜💙🤍💛
Heat/Steam: N/A
Humor: 😅😂🤣🤪🥸
Story/Plot: 📙📕📗📘📔
World building: 🌎🌏🌍🌎🌎
Character development: 👨🏻👱🏻‍♀‍👩🏼‍🦰🧔🏻👨🏽‍🦲
Rocco is on the verge of getting married so he is trying to put together a rule book for Brooke to sign for after they get married. You know, things like the fact that she needs to make dinner at least 5 out of every seven days, and she has to wear her tracker at all times. Though after he and brook get in a fight about this rule book and he and the guys at Reed Security figure out that Brooke may have been so cranky because could be pregnant.

Now Rocco really needs to finish the rule book and get Brooke to sign it before her hormones get even more out of wack. So the guys decide to hide the rule book in the middle of the Relationship manual they have slowly been putting together. The manual is more of a guide on do's and don'ts in a relationship based on their experience. So Cap gives them all a talk about getting this manual completed in a hurry so Rocco can use it to get his rule book signed.

Each of the guys of Reed Security think back on their early relationships and add items that they did right and wrong in the pursuit of their women. Though the women find out and decide to make a rule book of their own so when the guys hand them theirs, they can hand back one of their own.

This was a terrific premise to go through all the hilarity of the relationships between the guys and their gals. These were some of the best parts of each previous Reed Security book, so this was not only great nostalgia for the books I have already read, but it makes me really want to get to the ones I haven't yet read and read them now. Which for me, means you don't have to read any of the previous books to read this one, though it will definitely make you want to.

The guys of Reed Security are hot, tough and sometimes immature meatheads, but they sure love their women. They are also often paranoid, overprotective and stalkers that have crazy ideas about what it takes to get and keep women. Though they do have reason to be that way (somewhat) since they have been attacked in the past and some of the women have been kidnapped at one time or another.

"Enough! Craig, I hate to point this out to you, but you don't have what it takes to be a stalker. It's never going to happen, so give it up. You have this twisted version of stalking that doesn't even make sense. I'm sorry, you can't join the club."
He looked like I had kicked him, but enough was enough.
The women are every bit as crazy as the men. They love to shoot, throw grenades and get into all sorts of trouble. Some of them even started up a sex toy company. What more can you ask for? This book has all that and a bag of chips!
I voluntarily read & reviewed an advanced copy of this book. All thoughts & opinions are my own.
Blog|Goodreads|Facebook|Instagram|Twitter|BookBub