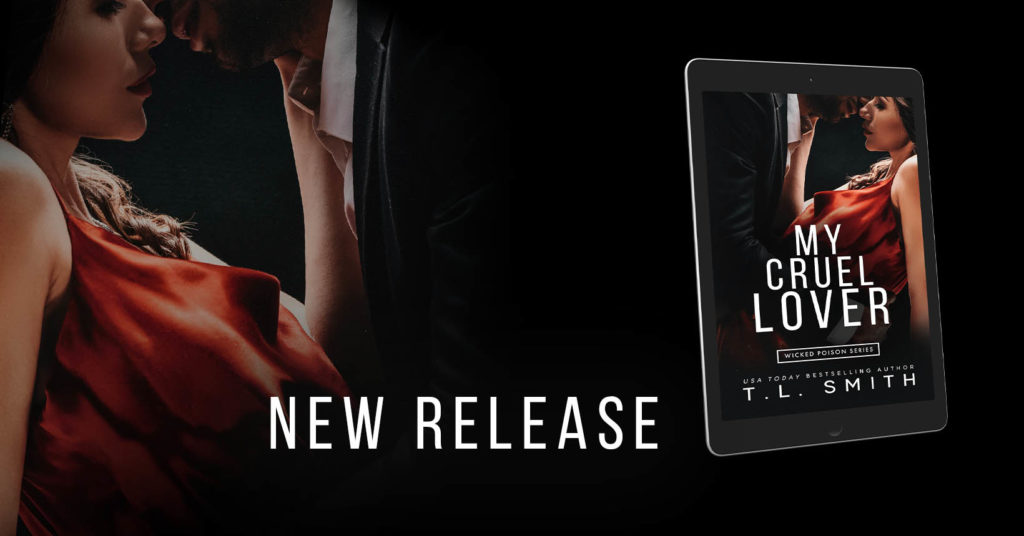 🖤🖤 ℍ𝕠𝕥 ℕ𝕖𝕨 ℝ𝕖𝕝𝕖𝕒𝕤𝕖 🖤🖤
𝗠𝘆 𝗖𝗿𝘂𝗲𝗹 𝗹𝗼𝘃𝗲𝗿 𝗯𝘆 𝗨𝗦𝗔 𝗧𝗼𝗱𝗮𝘆 𝗯𝗲𝘀𝘁𝘀𝗲𝗹𝗹𝗶𝗻𝗴 𝗮𝘂𝘁𝗵𝗼𝗿 𝗧.𝗟. 𝗦𝗺𝗶𝘁𝗵 𝗶𝘀 𝗟𝗜𝗩𝗘! 𝗗𝗼𝗻'𝘁 𝗺𝗶𝘀𝘀 𝘁𝗵𝗶𝘀 𝘀𝘁𝗮𝗻𝗱𝗮𝗹𝗼𝗻𝗲 𝗶𝗻 𝘁𝗵𝗲 𝗪𝗶𝗰𝗸𝗲𝗱 𝗣𝗼𝗶𝘀𝗼𝗻 𝘀𝗲𝗿𝗶𝗲𝘀!
#𝟭-𝗰𝗹𝗶𝗰𝗸 𝘁𝗼𝗱𝗮𝘆!
#𝙋𝙧𝙚-𝙤𝙧𝙙𝙚𝙧 𝙩𝙤𝙙𝙖𝙮!
BOOK BLURB
My heart has been broken, torn to shreds.
I'm used to the game of pain.
Basically, I'm acquainted with it.
Some would say I've become immune.
That is…
… until him.
He's cruel, hard, and everything I should stay away from.
For one, he is my boss.
Second, well, I can't stay away.
But in this game of life, maybe pain is my love.
Or maybe I'm not seeing things clearly.
Because every time his hands touch me, it's anything but cruel.
Add to your Goodreads TBR
➜
https://bit.ly/MCL-GR
PURCHASE LINKS
Apple ➜
http://apple.co/36kqoxK
B&N ➜
http://bit.ly/3bDPVns
Amazon➜
https://amzn.to/2MxIfdm
Amazon Aus ➜
http://amzn.to/2YsStyc
Amazon UK ➜
http://amzn.to/3abPakF
ABOUT THE AUTHOR
USA Today Best Selling Author T.L. Smith loves to write her characters with flaws so beautiful and dark you can't turn away. Her books have been translated into several languages. If you don't catch up with her in her home state of Queensland, Australia you can usually find her travelling the world, either sitting on a beach in Bali or exploring Alcatraz in San Francisco or walking the streets of New York.
AUTHOR LINKS
FB Page
|
Instagram
|
BookBub
|
Reader Group
|
Amazon
|
Newsletter sign up
| TikTok
Text Club:
Text TLSmith to 312-728-8217 (US only for new releases of mine)
My Cruel Lover by T.L. Smith

My rating: 4 of 5 stars. ⭐️⭐️⭐️⭐️
Bend her like Beckham!
The following ratings are out of 5:
Romance: ❤️💜💙💚
Heat/Steam: 🔥🔥🔥🔥
Story/Plot: 📙📕📗📘
World building: 🌎🌏🌍🌎🌎
Character development: 😟😣🙃🙂🥰

The heroine: Jacinta – She got pregnant by Rylee's ex fiancé when he was cheating on Rylee. He was abusive and an all around bad guy. While pregnant she ran and tried to stay hidden from him and his wealthy family. During her time away, she married August who also left town because he didn't think he deserved Rylee. However, when he returned to town for a funeral, he got back together with Rylee.

The Hero(es): Beckham Harley – Brother to Rylee and her twin sister Rhianna. Beckham took over running their father's company years ago and has increased its worth ever since. Beckham lost the love of his life, Paige in the last book. He had been best friends with her since they were young. Paige was August's half-sister. August is Rylee's husband.

The Story: Jacinta has a young son and is working as a secretary to Beckham. He is a hard task master but soon realizes that Jacinta is good at her job and dedicated. Beckham is extremely attracted to Jacinta, and her to him but neither of them want to cross that line since he is her boss. Plus he is hard to work for and Jacinta is a great worker.

When Beckham and Jacinda have to go away together to a swanky resort for business, the book gets a bit steamy. Though I must say this book seemed a bit rushed to me and could have had a lot more detail. It is less than 200 pages, so I didn't expect a deeply intricate storyline.

However, I thought there would be a bit more angst about Beckham's love for Paige when he started to have feelings for Jacinta. He was definitely grieving before he got to know Jacinta, but he seemed to move on as soon as he got intimate with Jacinta. So I will give this one 4 stars instead of 5.
I voluntarily read & reviewed an advanced copy of this book. All thoughts & opinions are my own.

Blog|Goodreads|Facebook|Instagram|Twitter|BookBub


View all my reviews