THE GLASS SLIPPER (Cinderella #3) by K. Webster
Release Date: April 13th
Add to Goodreads:
https://www.goodreads.com/book/show/56655906-the-glass-slipper
AVAILABLE NOW!!!
Amazon: https://amzn.to/3e16Stb
Apple:
http://apple.co/3qHDkW2
B&N:
http://bit.ly/2MdPya7
Kobo:
http://bit.ly/399i3ic
Google Play:
http://bit.ly/3o9x1ZJ
Start the Series today with Stroke of Midnight!
Amazon:
https://amzn.to/33QksLN
Apple Books:
https://apple.co/3gRI7yL
B&N:
https://bit.ly/3bk35oN
Kobo:
https://bit.ly/3gQXjMO
Google Play:
https://bit.ly/34UmJ9S
Blurb:
Betraying the most powerful man in New York wasn't something I ever envisioned when I first started playing games with Winston Constantine. But he's engaged in far more dangerous games than ours, and his enemies are out for blood.
Winston has my heart, the Morellis have incriminating photos, and I'm left with nothing except three stepbrothers who want to hurt me and a future in doubt. I knew Winston wouldn't be my prince charming, but that didn't stop me from falling for him.
After all, the slippers fit, and I let myself believe I'd be dancing with Winston forever.
Until too much truth comes to light.
Until I realize instead of ruling the board, I was just a pawn.
In the end, I have only one question. When his game with me is over, will I be able to pretend as if the glass slipper wasn't a perfect fit?
About K. Webster:
K Webster is a USA Today Bestselling author. Her titles have claimed many bestseller tags in numerous categories, are translated in multiple languages, and have been adapted into audiobooks. She lives in "Tornado Alley" with her husband, two children, and her baby dog named Blue. When she's not writing, she's reading, drinking copious amounts of coffee, and researching aliens.
Connect w/K. Webster:
Website:
https://www.authorkwebster.com
Facebook:
https://www.facebook.com/authorkwebster
Twitter:
http://www.twitter.com/KristiWebster
Instagram:
https://www.instagram.com/authorkwebster
Goodreads:
https://www.goodreads.com/author/show/7741564.K_Webster
Bookbub:
https://www.bookbub.com/authors/k-webster
Amazon:
https://www.amazon.com/K-Webster/e/B00JOJ86CW
Newsletter Signup:
http://eepurl.com/bllgoP
The Glass Slipper by K. Webster

My rating: 5 of 5 stars. ⭐️⭐️⭐️⭐️⭐️
"She tastes like cherry Starbursts and forever."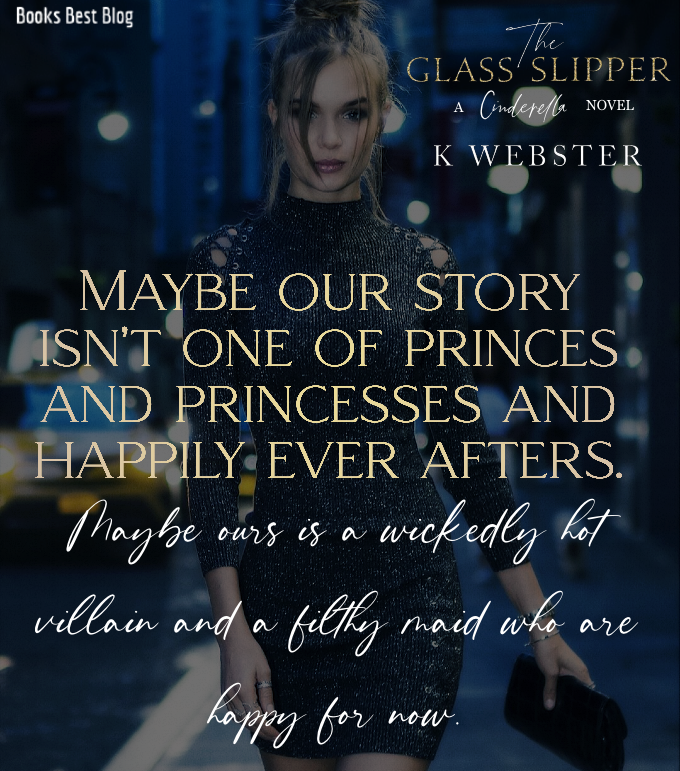 "I'm Winston motherfucking Constantine.
Hard. Cold. Impenetrable."
The following ratings are out of 5:
Romance: ❤️💙💜💛❤️
Heat/Steam: 🔥🔥🔥🔥🔥
Story/Plot: 📙📕📗📙
World building: 🌎🌏🌍🌎🌍
Character development: 😌🤓😤😳🤯
The heroine: Ash Elliot (a.k.a. Cinderelliot) – Ash was a maid in the building where Win is the CEO of the Company. She has been harassed by Leo Morelli for weeks and hasn't told Winston.
The Hero(es): Winston Constantine (a.k.a. Win) – Win and his family have many enemies, but mainly the Morelli's whom he thinks may have murdered his father.
The Love Story: Win likes his Kink and has been paying Ash for all sorts of kinky acts. Ash has now got more than enough money to go to college plus a bunch of extras, like a car and a yacht. Though she has fallen in love with Win, and he won't admit to having any feelings for her.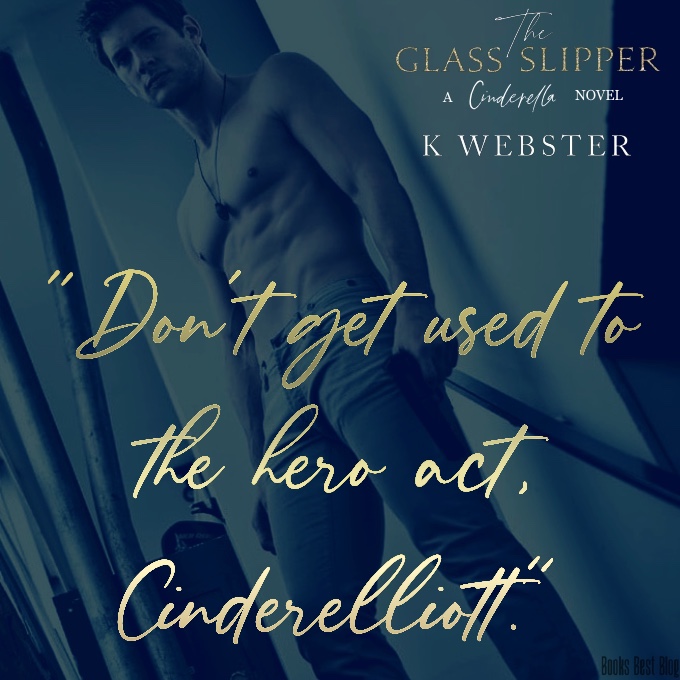 There is a lot to love about this book and the entire series. For starters though Ash is only eighteen, she is a strong and intelligent character. She is extremely likable and she makes Winston more likable because of his reactions to her quirky character. He has these inner thoughts like a devil on his shoulder about how she is not his girlfriend and how he isn't falling for her and more, then he also has this angel on his other shoulder that calls him a liar every time he thinks that way.
Another thing that was great about the book was Ash's relationship with Perry Constantine, who is Winston's brother. Perry and Ash became fast friends when they first met and he is quite a character as well. Their banter and the way he is there for her is terrific.
I also enjoyed the steamy scenes and the fact that Win and Ash are quite kinky and both of them own it. Sure Win is paying her to do things and it could seem a bit like prostitution, but to them it is a game. Throughout the series Ash gives him money back for things that show his affection to her.
"For the record," she whispers, "I'd give you back all that money in my bank, the college fund, the car, the boat, everything for dinner at my place."
Another thing I just love in books is when one or both of the protagonists has a pet. I love animals and they just add something to the world building. Ash has a bird named Shrimp, and though I am not familiar with birds, I just love it when there is a pet with a personality to add to the story. Though since she leaves his cage open, I kept wondering if he uses his cage as a bathroom or if bird poo is all over, but I googled it and I guess you can cage train birds. So that calmed my nerves with regard to that situation.
The one thing I didn't like about this book was the fact that Winston is 37 and Ash is 18, it wasn't so much the age gap that bothered me (though I think that was a bit too much of a gap. I would have liked it better if he was 34 and she 20. The thing that bothered me was that they kept making a joke of the fact that she was still a teenager. She also kept calling him old man. All the joking about it just made it seem like it bothered them a lot more than the pretended and the joking made it seem all the more depraved, but not in a good way. Though this only took a small amount off my story points.
I voluntarily read & reviewed an advanced copy of this book. All thoughts & opinions are my own.

Blog|Goodreads|Facebook|Instagram|Twitter|BookBub