🖤🖤 ℍ𝕆𝕋 ℕ𝔼𝕎 ℝ𝔼𝕃𝔼𝔸𝕊𝔼 🖤🖤
𝐌𝐲 𝐖𝐢𝐜𝐤𝐞𝐝 𝐇𝐞𝐚𝐫𝐭, 𝐖𝐢𝐜𝐤𝐞𝐝 𝐏𝐨𝐢𝐬𝐨𝐧 𝐁𝐨𝐨𝐤 𝟐, 𝐛𝐲 𝐔𝐒𝐀 𝐓𝐨𝐝𝐚𝐲 𝐁𝐞𝐬𝐭𝐬𝐞𝐥𝐥𝐢𝐧𝐠 𝐚𝐮𝐭𝐡𝐨𝐫, 𝐓.𝐋. 𝐒𝐦𝐢𝐭𝐡 𝐢𝐬 𝐋𝐈𝐕𝐄!
#𝟏-𝐜𝐥𝐢𝐜𝐤 𝐭𝐨𝐝𝐚𝐲!
PURCHASE LINKS
Apple ➜
https://apple.co/2GX0mqG
Amazon ➜
https://amzn.to/2GUczwe
Amazon Aus ➜
https://amzn.to/36qZiUK
Amazon UK ➜
https://amzn.to/3kqRc3t
B&N ➜
http://bit.ly/35cA1xV
KOBO ➜
http://bit.ly/2LOdCjF
GR ➜
https://bit.ly/2Uj0Ydr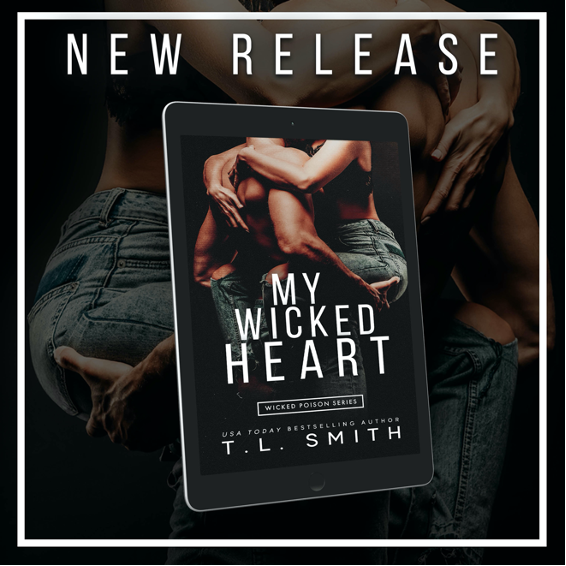 PURCHASE My Beautiful Poison, Book 1 in the Wicked Poison Duet!
Apple ➜
https://apple.co/2DVFfTV
Kobo ➜
https://bit.ly/3j6FjzF
B&N ➜
https://bit.ly/3ndQBVB
Amazon ➜
https://amzn.to/2G8NVan
Amazon Aus ➜
https://amzn.to/360Q3fg
Amazon UK ➜
https://amzn.to/2HsMhBi
GR ➜
https://bit.ly/2Gm9pRU
ABOUT THE AUTHOR
USA Today Best Selling Author T.L. Smith loves to write her characters with flaws so beautiful and dark you can't turn away. Her books have been translated into several languages. If you don't catch up with her in her home state of Queensland, Australia you can usually find her travelling the world, either sitting on a beach in Bali or exploring Alcatraz in San Francisco or walking the streets of New York.
AUTHOR LINKS
FB Page
|
Instagram
|
BookBub
|
Reader Group
|
Amazon
|
Newsletter sign up
Text Club:
Text TLSmith to 312-728-8217 (US only for new releases of mine)
My Wicked Heart by T.L. Smith

My rating: 5 of 5 stars. ⭐️⭐️⭐️⭐️⭐️
All the feels and so much more!
The following ratings are out of 5:
Romance: ❤️💙💜💛💚
Heat/Steam: 🔥🔥🔥🔥🔥
Story/Plot: 📙📕📗📘📙
World building: 🌎🌏🌍🌎🌏
Character development: 👤👤👤👤👤

The Hero(s): August – Recently got out of jail for a crime where he was set up by his boss, Josh for wanting to get out of the crime business. August killed Josh when Josh kidnapped and held August's sister Paige hostage at knifepoint.

The heroine: Rylee – a rich girl from the other side of the tracks, she broke up with her abusive boyfriend Anderson and fell in love with August after he came home from prison. She has a brother, Beckham who is a senior in high school and was in love with Paige. Rylee also has a twin sister Rhianna whom she goes to whenever she needs support. Rhianna is dating Noah, who is lawyer and best friend of August.

The Love Story: August continues to think Rylee is too good for him and wants to keep her away.
I loved this book, it was tragic and filled with sadness and yearning. It was very different from the first book. I was so mad at August, most of his choices are cruel and not in a way that anti-Hero's are often cruel, he generally thinks he is doing the right thing but is just cruel and he knows what he is doing will hurt her. I found myself hoping Rylee could hurt him back just as much, without being consciously cruel. Though these feelings didn't distract from the story, they were just part of "all the feels", that make some books so good!
Note to T.L. Smith: I really want Beckham's story! Please don't have him fall in love with the woman who just became his assistant. I hate it when authors always seem to feel they have to use two people from a previous story for the next one. Only one is fine to use with a new love interest.

I voluntarily read & reviewed an advanced copy of this book. All thoughts & opinions are my own.

Blog|Goodreads|Facebook|Instagram|Twitter|BookBub

View all my reviews