👑 🖤 ℍ𝕠𝕥 ℕ𝕖𝕨 ℝ𝕖𝕝𝕖𝕒𝕤𝕖 🖤👑
𝗧𝗵𝗿𝗼𝗻𝗲 𝗼𝗳 𝗣𝗼𝘄𝗲𝗿 𝗯𝘆 𝗥𝗶𝗻𝗮 𝗞𝗲𝗻𝘁 𝗶𝘀 𝗟𝗜𝗩𝗘!
#𝟭-𝗰𝗹𝗶𝗰𝗸 𝘁𝗼𝗱𝗮𝘆!

👑 Purchase Thrown of Power 👑
AMAZON US ➜
https://amzn.to/3p6LdV4
AMAZON UK ➜
https://amzn.to/355Hgry
INTERNATIONAL ➜
https://smarturl.it/TOPBuy
GOODREADS ➜
http://bit.ly/TOP-GR
BLURB
When powers clash…
In the mafia world, women don't reign.
I'm the exception of that rule.
I didn't choose this life, it chose me.
I have a legacy to protect, a power to snatch, and no one will stop me.
If an arranged marriage is what it'll take to lead, then so be it.
What I don't count on is that my chosen husband is a ghost from my past.
Kyle Hunter.
He was once my guard, my protector. Now, he's after my kingdom.
The road to the throne is paved with thorns, blood, and casualties.
To win, I'll risk it all.
My heart included.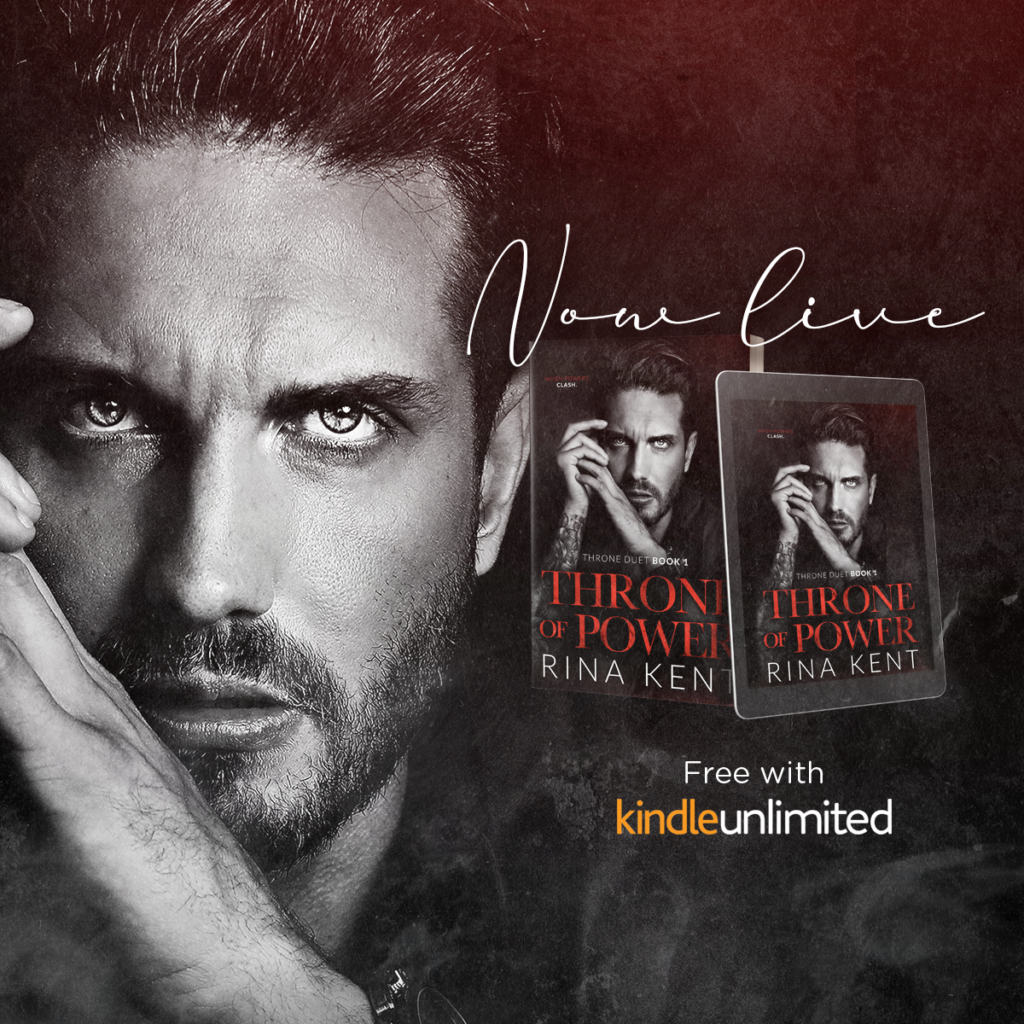 👑 Pre-Order Throne of Vengeance 👑
Releasing February 11th!
AMAZON US ➜
https://amzn.to/3akW3Sq
AMAZON UK ➜
https://amzn.to/34Jgcy3
INTERNATIONAL ➜
https://smarturl.it/TOVBuy
GOODREADS ➜
http://bit.ly/TOV-GR
ABOUT THE AUTHOR
Rina Kent is an international bestselling author of everything enemies to lovers romance.
Darkness is her playground, suspense is her best friend, and twists are her brain's food. However, she likes to think she's a romantic at heart in some way, so don't kill her hopes just yet.
Her heroes are anti-heroes and villains because she was always the weirdo who fell in love with the guys no one roots for. Her books are sprinkled with a touch of mystery, a healthy dose of angst, a pinch of violence, and lots of intense passion.
Rina spends her private days in a peaceful town in North Africa daydreaming about the next plot idea or laughing like an evil mastermind when those ideas come together.
Don't forget to Sign up to Rina Kent's
Newsletter
for news about future releases and an exclusive gift.
AUTHOR LINKS
Website |
Newsletter | BookBub | Instagram | Facebook | Exclusive Facebook Group | Twitter | Pinterest |
Goodreads
Throne of Power by Rina Kent

My rating: 5 of 5 stars
Sizzling Hot, with a great big finish!
The following ratings are out of 5:
Romance: ❤️💙💜💛💚
Heat/Steam: 🔥🔥🔥🔥🔥
Story/Plot: 📕📗📘📙
World building: 🌎🌏🌍🌎
Character development: 👤👤👤👤👤

The Hero(s): Kyle Hunter – Kyle was brought in to the Bratva though nobody really knew much about his background. He was a Hitman and very good at his job. Though seven years ago he disappeared without a word. Now he is back and claiming to be the son of one of the 4 Kings of the vory. The son that was kidnapped at age 5 and never seen again until now.

The heroine: Rai (Raina Sokolov) – She is the Grand-daughter of the former Bratva's Pakhan, and now the Grand-niece of the current one. She wants more power herself but the Bratva is a man's world and they don't allow women. Though in the time since Kyle left and her Babushka died, she has gained a bit of her own power.

The Love Story: When Kyle left seven years ago it nearly broke Rai and she has become a different person since then. She is upset when the Bratva takes Kyle back so easily after he basically left them. Nobody leaves the mafia. In order to save her innocent niece from an arranged marriage, Ria takes her place, but when she agreed, she had no idea the groom would be Kyle.
This is a dark mafia romance where the bride is stuck in an arranged marriage against her will. The groom has a very shady past and she doesn't trust him at all. The fact that she knew him well in the past, trusted him and was attracted to him before he left and broke her heart, makes her that much more acrimonious. Though Kyle wants his new wife, it seems he might just be toying with Rai while having another agenda completely.

The arranged mafia marriage is a trope used often in dark romance, but it is one I continue to like. However, the misogynistic mafia world is often hard to take, but I genuinely liked Rai and Kyle. Though some of the things Kyle did weren't great. Especially getting crazy jealous when she even talked to another guy. It is one thing in a book to show jealousy but another to tell a woman she can't even talk to another guy when she isn't flirting with the guy(s).

This book has tie in's to some other of Rina's books, though I won't go into which ones since that may be a spoiler, but I enjoyed that since I have read all her books. The ending of course was a Cliffhanger since this is book one of a Duet, but it was definitely Spectacular!!!
Blog|Goodreads|Facebook|Instagram|Twitter|BookBub

View all my reviews