🖤🖤 𝑯𝑶𝑻 𝑵𝑬𝑾 𝑹𝑬𝑳𝑬𝑨𝑺𝑬 🖤🖤
𝙈𝙮 𝘽𝙚𝙖𝙪𝙩𝙞𝙛𝙪𝙡 𝙋𝙤𝙞𝙨𝙤𝙣, 𝙗𝙤𝙤𝙠 𝙤𝙣𝙚 𝙞𝙣 𝙒𝙞𝙘𝙠𝙚𝙙 𝙋𝙤𝙞𝙨𝙤𝙣 𝙨𝙚𝙧𝙞𝙚𝙨 𝙗𝙮 𝙐𝙎𝘼 𝙏𝙤𝙙𝙖𝙮 𝙗𝙚𝙨𝙩 𝙨𝙚𝙡𝙡𝙞𝙣𝙜 𝙖𝙪𝙩𝙝𝙤𝙧 𝙏.𝙇. 𝙎𝙢𝙞𝙩𝙝 𝙞𝙨 𝙇𝙄𝙑𝙀!!
#𝟭-𝗰𝗹𝗶𝗰𝗸 𝘁𝗼𝗱𝗮𝘆!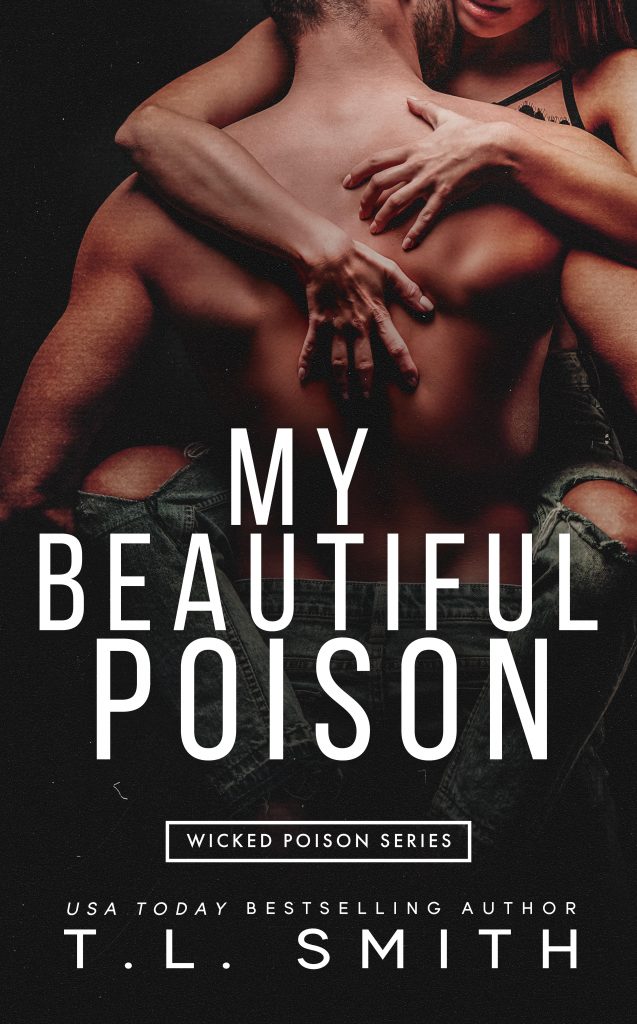 MY BEAUTIFUL POISON BLURB
I forgave him for the lies he told.
And I forgave him for breaking my body with his touch.
But I couldn't forgive myself for staying.
Until I met you… my antidote.
I knew I couldn't keep forgiving him, when I could be safe in your arms.
With your touch, there were no tears.
With your kisses, I could finally breathe.
You might be the villain in everyone's story…
But not mine.
PURCHASE LINKS
Apple ➜
https://apple.co/2DVFfTV
Kobo ➜
https://bit.ly/3j6FjzF
B&N ➜
https://bit.ly/3ndQBVB
Amazon ➜
https://amzn.to/2G8NVan
Amazon Aus ➜
https://amzn.to/360Q3fg
Amazon UK ➜
https://amzn.to/2HsMhBi
GR ➜
https://bit.ly/2Gm9pRU
PRE-ORDER MY WICKED HEART, releasing February 9th
Amazon ➜
https://amzn.to/2GUczwe
Amazon Aus ➜
https://amzn.to/36qZiUK
Amazon UK ➜
https://amzn.to/3kqRc3t
GR ➜
https://bit.ly/2Uj0Ydr
ABOUT THE AUTHOR
USA Today Best Selling Author T.L. Smith loves to write her characters with flaws so beautiful and dark you can't turn away. Her books have been translated into several languages. If you don't catch up with her in her home state of Queensland, Australia you can usually find her travelling the world, either sitting on a beach in Bali or exploring Alcatraz in San Francisco or walking the streets of New York.
AUTHOR LINKS
FB Page
|
Instagram
|
BookBub
|
Reader Group
|
Amazon
|
Newsletter sign up
Text Club:
Text TLSmith to 312-728-8217 (US only for new releases of mine)
My review of My Beautiful Poison
My Beautiful Poison by T.L. Smith

My rating: 5 of 5 stars. ⭐️⭐️⭐️⭐️⭐️
The bad boy is a good guy!
The following ratings are out of 5:
Romance: ❤️💙💜💛💚
Heat/Steam: 🔥🔥🔥🔥🔥
Story/Plot: 📕📗📘📔📙
World building: 🌎🌏🌍🌎🌏
Character development: 👤👤👤👤👤

The Hero(s): August – just got out of jail for a crime where he was set up by his boss for wanting to get out of the crime business. His boss Josh is one of the biggest drug dealers in the city, lives with August's alcoholic mom and used August from a young age to do everything from running drugs to collecting debts.

The heroine: Rylee – a rich girl from the other side of the tracks, she knew August in high school though he was a few years older and all the girls had crushes on him. Rylee is trying to break up with her abusive boyfriend Anderson, but neither he nor her mother will accept that it is over and keep pressuring her to marry him.

The Love Story: August sees Rylee as better than him and doesn't want to bring her down, though they are very attracted to each other. They keep ending up together and can't force back the desire.
August determines that they should stay away from each other but Rylee sees that he needs a friend. So she is determined to be a friend to him though she wants more. The chemistry between these two is through the roof and the romance is so hot!

I also enjoyed all the supporting characters. Anderson is the perfect jerk ex-boyfriend who treated Rylee wrong, she also has an identical twin Rhianna who is dating Noah, August's friend and lawyer. August has a younger sister Paige that he is close to and Paige happens to be dating Rylee's younger brother Beckham. The character development and world building are terrific.

The romance takes precedence over other storylines. Meaning it is more about how other stories affect the relationship than having intense storylines outside the relationship. And it has all the feels. I just loved it and the ending was so good as well, though it was a cliffhanger. I can't wait to read the next book.

I voluntarily read & reviewed an advanced copy of this book. All thoughts & opinions are my own.

Blog|Goodreads|Facebook|Instagram|Twitter|BookBub

View all my reviews