👑ℍ𝕠𝕥 ℕ𝕖𝕨 ℝ𝕖𝕝𝕖𝕒𝕤𝕖👑
𝐑𝐨𝐲𝐚𝐥 𝐄𝐥𝐢𝐭𝐞 𝐄𝐩𝐢𝐥𝐨𝐠𝐮𝐞 𝐛𝐲 𝐑𝐢𝐧𝐚 𝐊𝐞𝐧𝐭 𝐢𝐬 𝐡𝐞𝐫𝐞 & 𝐅𝐑𝐄𝐄 𝐰𝐢𝐭𝐡 #𝐊𝐢𝐧𝐝𝐥𝐞𝐔𝐧𝐥𝐢𝐦𝐢𝐭𝐞𝐝! 𝐃𝐨 𝐧𝐨𝐭 𝐦𝐢𝐬𝐬 𝐭𝐡𝐞 𝐞𝐩𝐢𝐜 𝐜𝐨𝐧𝐜𝐥𝐮𝐬𝐢𝐨𝐧!
#𝟏-𝐜𝐥𝐢𝐜𝐤 𝐭𝐨𝐝𝐚𝐲!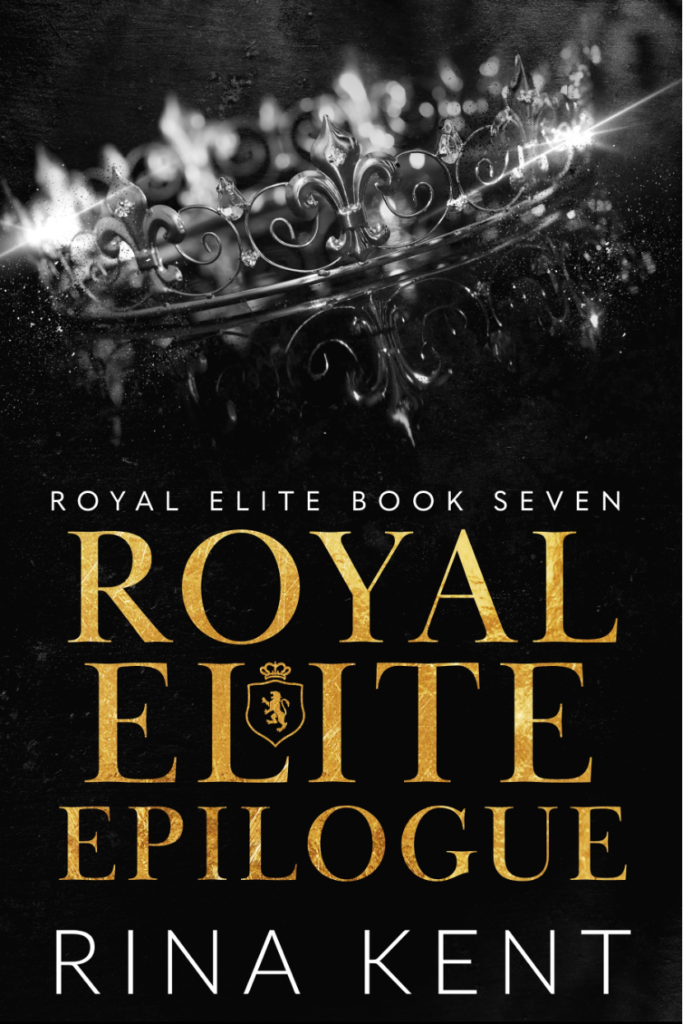 👑Blurb👑
One final game.
All five couples of Royal Elite series come to life again in this long extended epilogue.
Levi & Astrid.
Aiden & Elsa.
Xander & Kimberly.
Ronan & Teal.
Cole & Silver.
This epilogue is set after the end of Royal Elite Series so all the previous books need to be read before this.
Cruel King.
Deviant King.
Steel Princess.
Twisted Kingdom.
Black Knight.
Vicious Prince.
Ruthless Empire.
GOODREADS ➜
https://bit.ly/REE-GR
👑1-Click Royal Elite Epilogue👑⠀⠀⠀⠀⠀⠀⠀⠀⠀
AMAZON US ➜
https://amzn.to/3igJQil
AMAZON UK ➜
https://amzn.to/30zJyNB
INTERNATIONAL ➜
https://smarturl.it/REEBuy
AUDIOBOOK ➜
https://adbl.co/35ts7Rd
👑Binge the Series👑
Royal Elite Series is complete and Free with #KindleUnlimited. Start binging this bestselling series today!
Cruel King ➜
https://amzn.to/358myVr
Deviant King ➜
https://amzn.to/31E1uoo
ABOUT THE AUTHOR
Rina Kent is an international bestselling author of everything enemies to lovers romance.
Darkness is her playground, suspense is her best friend, and twists are her brain's food. However, she likes to think she's a romantic at heart in some way, so don't kill her hopes just yet.
Her heroes are anti-heroes and villains because she was always the weirdo who fell in love with the guys no one roots for. Her books are sprinkled with a touch of mystery, a healthy dose of angst, a pinch of violence, and lots of intense passion.
Rina spends her private days in a peaceful town in North Africa daydreaming about the next plot idea or laughing like an evil mastermind when those ideas come together.
Don't forget to Sign up to Rina Kent's
Newsletter
for news about future releases and an exclusive gift.
AUTHOR LINKS
Website |
Newsletter | BookBub | Instagram | Facebook | Exclusive Facebook Group | Twitter | Pinterest |
Goodreads
My Review of Royal Elite Epilogue
Royal Elite Epilogue by Rina Kent

My rating: 5 of 5 stars. ⭐️⭐️⭐️⭐️⭐️
Pretty great epilogue to each of the stories!

For those who love the HEA, this is a really nice epilogue to each of the five romances contained in the Royal Elite Series. The stories in this book go back and forth in time a bit, some to places we have seen in other books and mostly for the simple fact that this book is showing the proposals, weddings, honeymoons, etc… for each of the couples. They obviously didn't have a large joint wedding and some of them have these milestones in their lives at different ages and times than others.

I liked how Rina did the slight recap of each romance for those of us whose memories aren't what they used to be. There were also some steamy scenes mixed in so as not to disappoint the fans since that is what we come to expect from a Rina Kent book. It also showed the possessiveness and somewhat over the top alpha maleness of these five men that we have come to expect and like.

I don't know about anyone else, but I enjoyed the entire thing!

I voluntarily read & reviewed an advanced copy of this book. All thoughts & opinions are my own.

Blog|Goodreads|Facebook|Instagram|Twitter|BookBub


View all my reviews