I Love You I Hate You Part 2 by Bailey B.

My rating: 5 of 5 stars.
I hated Danika more than Logan did!
The following ratings are out of 5:
Romance: 🖤💜❤️🖤💜
Heat/Steam: 🔥🔥🔥
Story/Plot: 📕📗📘📙📒
World building: 🌎🌍🌏🌎🌍
Character development: 👤👤👤👤👤

The setting: Florida.

The Hero: Logan – was devastated when Danika left him without a word at the end of book 1. Logan turned to alcohol and though he stopped texting Dani after a year when he realized she wouldn't be coming back, he continued to ask her father about her.

The heroine: Danika – left to live with her Nona without telling Logan about what she did, she blames Logan for ruining their relationship. Though she was the one that left and he kept texting her for a year, she blames him for breaking her heart when he stopped. She also blames him for not being there when she needed him because he reacted badly to when she kept things from him. Though Dani only gave Logan a few days before deciding he wasn't there for her and leaving town. – Yes I am hating her for her actions, but deservedly.

The love story: Both Logan and Dani think they hate each other for what happened in the past, but neither of them has gotten over the other. The further this book went on the more I disliked Dani, she made such mean and cruel choices that were based on assumptions and they were incorrect assumptions as well. I can't even believe that the other people who knew what she was doing kept her secret, so I was mad at them as well.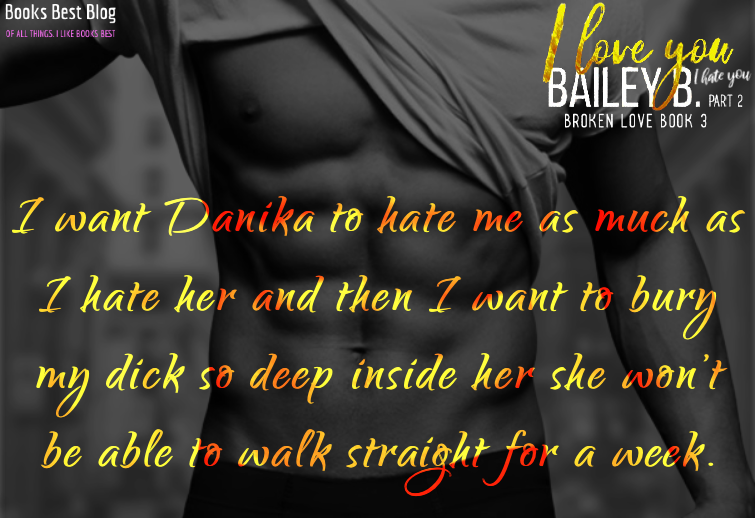 Just when I finally started liking Danika again because she began to see things clearly, She does something else to make me even more frustrated with her. It is so stupid because she does basically the same thing over again. Logan is a great boyfriend and an all around terrific guy and frankly he cuts her more slack than I ever would, but I guess that is love for you.

Dani shouldn't be so busy judging him, she should have thanked her lucky stars that he loved her from the beginning. Dani mentions a few times that he was unreliable when they were together in high school, but I didn't think that at all. He was going through some pretty heavy stuff in the first book and he was a teenager so I think she should have cut him more slack. She implied that his actions were juvenile but hers were so much worse.

Overall, I really did enjoy this book, no matter how frustrated I got with the heroine. Of course if an author can make you feel frustration and anger at a character or just make you feel anything at all, then I'd say they did a great job. Also I actually liked the fact that it was the heroine's actions that I had trouble with in this book. More often than not it is the Hero that is portrayed as the villain, so I liked this change of pace from the norm.

I voluntarily read & reviewed an advanced copy of this book. All thoughts & opinions are my own.

Blog|Goodreads|Facebook|Instagram|Twitter|BookBub

View all my reviews