♟️👑 ℍ𝕆𝕋 𝔽ℝ𝔼𝔼 ℝ𝔼𝕃𝔼𝔸𝕊𝔼👑♟️
Rule of a Kingdom by Rina Kent is available now! Meet the ruler, the villain, the one and only Jonathan King!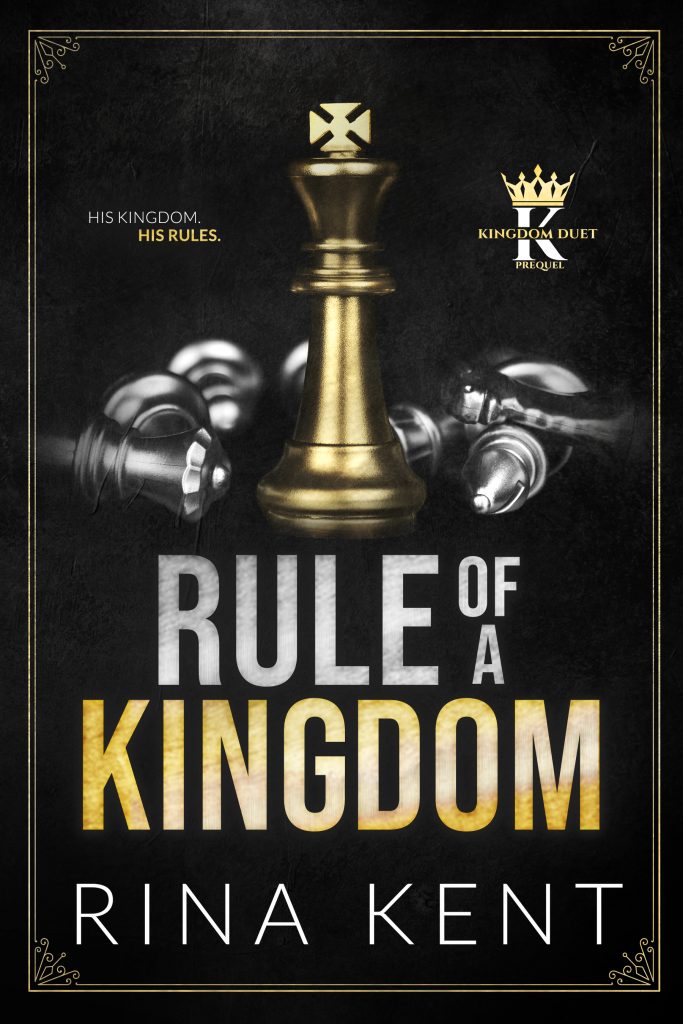 👑♟️
Blurb
👑♟️
His kingdom. His rules.
My name is Jonathan King.
They call me ruthless, brutal, and heartless.
It's all true.
Power is my chessboard and people are my playthings.
I might appear like a refined gentleman but I'm the villain of this story.
Everyone who defies me belongs on their knees.
Including her.
LINK TO FREE PREQUEL
➜
https://BookHip.com/FNWMZV
👑♟️
Pre-Order Reign of a King
👑♟️
AMAZON US ➜
https://amzn.to/3gBhHCc
AMAZON UK ➜
https://amzn.to/2CalZ4A
INTERNATIONAL ➜
https://smarturl.it/ROAKBuy
👑♟️
Add Kingdom Duet to Goodreads
👑♟️
➜
http://bit.ly/KD-GR
TEASERS
ABOUT THE AUTHOR
Rina Kent is an international bestselling author of everything enemies to lovers romance.
Darkness is her playground, suspense is her best friend, and twists are her brain's food. However, she likes to think she's a romantic at heart in some way, so don't kill her hopes just yet.
Her heroes are anti-heroes and villains because she was always the weirdo who fell in love with the guys no one roots for. Her books are sprinkled with a touch of mystery, a healthy dose of angst, a pinch of violence, and lots of intense passion.
Rina spends her private days in a peaceful town in North Africa daydreaming about the next plot idea or laughing like an evil mastermind when those ideas come together.
Don't forget to Sign up to Rina Kent's
Newsletter
for news about future releases and an exclusive gift.
AUTHOR LINKS
Website |
Newsletter | BookBub | Instagram | Facebook | Exclusive Facebook Group | Twitter | Pinterest |
Goodreads
My Review of Rule of a Kingdom
Rule of a Kingdom by Rina Kent

My rating: 5 of 5 stars. ⭐️⭐️⭐️⭐️⭐️
I Want More!
The following ratings are out of 5:
Romance: N/A
Heat/Steam: N/A
Story/Plot: 📕📗📘📙📓
World building: 🌎🌍🌏🌎🌏
Character development: 👤👤👤👤👤
The setting: The King Estate

The Hero: Jonathan King – I didn't think it could happen, but Rina Kent made me actually like Jonathan King within the first few pages. Though we know he is ruthless and somewhat cold, she showed a side of him that I didn't expect.

The heroine: Someone from his past. She fears him, but we are not sure why. He already wants to destroy her but it is also unclear why. All I can say is I can't wait to find out more, I hope the next book comes quickly.

I voluntarily read & reviewed an advanced copy of this book. All thoughts & opinions are my own.

Blog|Goodreads|Facebook|Instagram|Twitter|BookBub

View all my reviews