GoodKnight: A Reed Security Romance by Giulia Lagomarsino

My rating: 5 of 5 stars.
A deadly virus, kidnapping, torture, assassinations, the president and romance!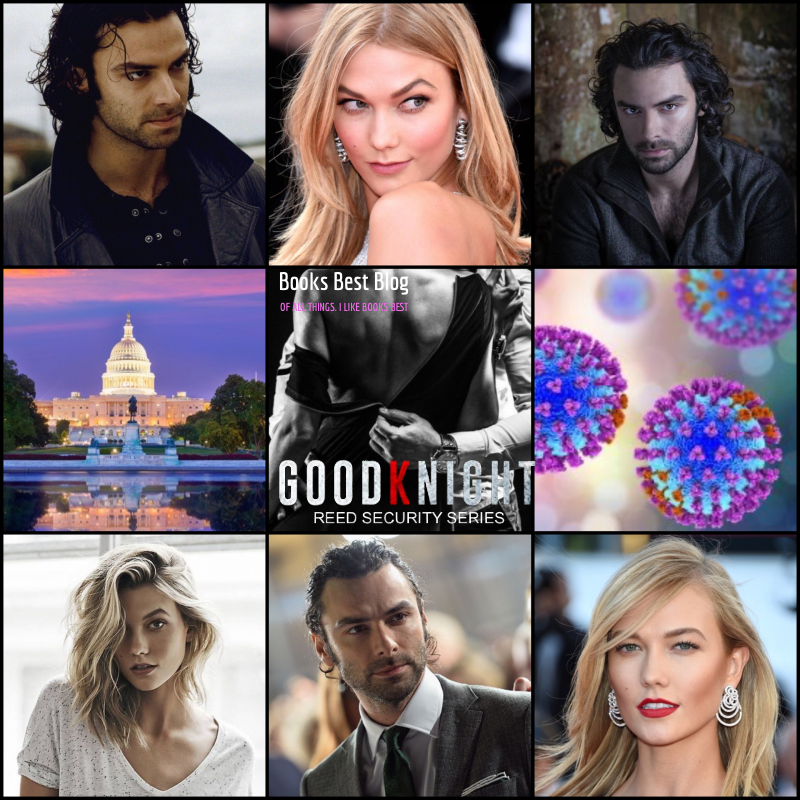 Such a great ending to the series. This continuing story was basically part two to the last book, though the last book was centering around Parker and Blake's romance and though this one did include them, it was more about Knight and his wife Kate. I started this series at book 21 (Rocco), so I hadn't read Knight and Kate's original story but I had picked up enough about Knight to be really interested in him.

I actually can't wait now to read their story, but I really want to go back and start at the first book and read them in order. Knights story is book 4, so I won't have to wait too long, but finding the time is the issue. Knight is interesting because we know that he is a former assassin that had to fake his death and change his identity when he went to work at Reed Security. Though he was an assassin, he was a good guy that killed bad people, sort of a Dexter that was paid for the jobs he did.

He took down cartels, gangs, and pedophiles so he has a lot of enemies and he never thought he was good enough for Kate. The story in this book really began in the book Nightingale when Knight killed Senator Blakely for abusing the kid (Reid) who Florrie and Alec took in. Knight found some documents in Blakely's safe and in the last book those documents led to Senator Cortez. Knight had Parker break in to Cortez's house and that is where Parker met Blake as she was also looking into Cortez.

It turns out that Cortez and a bunch of other Senators are working together in some sort of conspiracy to create a super virus and they know that Hudson Knight is really the assassin Garrick Knight, so Cortez had some guys kidnap Knight's wife Kate. While Blake's former boss at the FBI arrested both her and Parker. The FBI is also planning to come to Reed security with a search warrant to look forward the journal that Blake and Parker stole from Cortez which details the plans for the virus.

So all the good guys are in trouble and there is so much going on in this book. The bad guys have a bunch of power and of course they are all corrupt as politicians usually are. There is so much suspense and intrigue that I was on the edge of my seat for most of the book. It seemed that just when you think everything is going to work out, that something else happens.

As with most of the other books in this series, there are steamy moments, though not as many in this book as in some of the others, but that is ok since this is a series ending and sometimes in the series endings, too many steamy moments get a bit sappy. For me at least. Also like the other books, there is humor and in this one, a lot of the former supporting cast returns for cameo appearances. This was a fun one to read and I liked the fact that so much of it was like a thriller, but there was also romance and nostalgia. And the last twenty percent of the book was utterly hilarious!
I voluntarily read & reviewed an advanced copy of this book. All thoughts & opinions are my own.

Blog|Goodreads|Facebook|Instagram|Twitter|BookBub

View all my reviews