🔥🔥 HOT NEW RELEASE 🔥🔥
Bully King by NY Times best selling author, JA Huss is LIVE! Don't miss this dark bully romance filled with sex, lies, and secrets that will bring everyone to their knees! #One-click today!
BLURB
High Court College isn't for everyone. And the secret society that meets deep in the woods is even more exclusive. Only a select few will get in during the summer rush–and Cadee Hunter wants to be one of them. Too bad it's Cooper Valcourt's mission to make sure she fails.
Bully boys.
Arrogant tyrants.
Blue-blood bastards.
Call them whatever you want.
Around here, we just call them Kings.
Fancy boats.
Lakeside mansions.
Luxe watches and bespoke suits.
The Kings of High Court College act like Gods.
And Cooper Valcourt is the worst of them.
He is the bully king.
His family owns everything.
And his mission is to put me in my place and send me packing.
But Cooper and I have a history filled with secrets.
And everyone knows that power doesn't come from having money.
It comes from holding secrets.
And I'm holding one of his.
A very dark secret that can bring him to his knees.
*****
Bully King is a new-adult, dark, bully romance from New York Times bestselling author JA Huss featuring boys with power and girls at their mercy. It's a campus shrouded in lies and a summer rush into an elite society that can propel a poor girl straight into the ruling class.
If… she's willing to pay the price.
PURCHASE LINKS
AUDIOBOOK RELEASING SAME TIME
– Narrators – Jacob Morgan, Emma Wilder
UNIVERSAL:
https://mybook.to/BullyKing
Audible:
https://adbl.co/2X3gMmj
Amazon US
: https://amzn.to/2XVQdAo
Amazon UK
: https://amzn.to/2Yunbql
Amazon CA
: https://amzn.to/2AtfMjf
Amazon AU
: https://amzn.to/2UA4zV2
GOODREADS
:
https://bit.ly/3e4XToN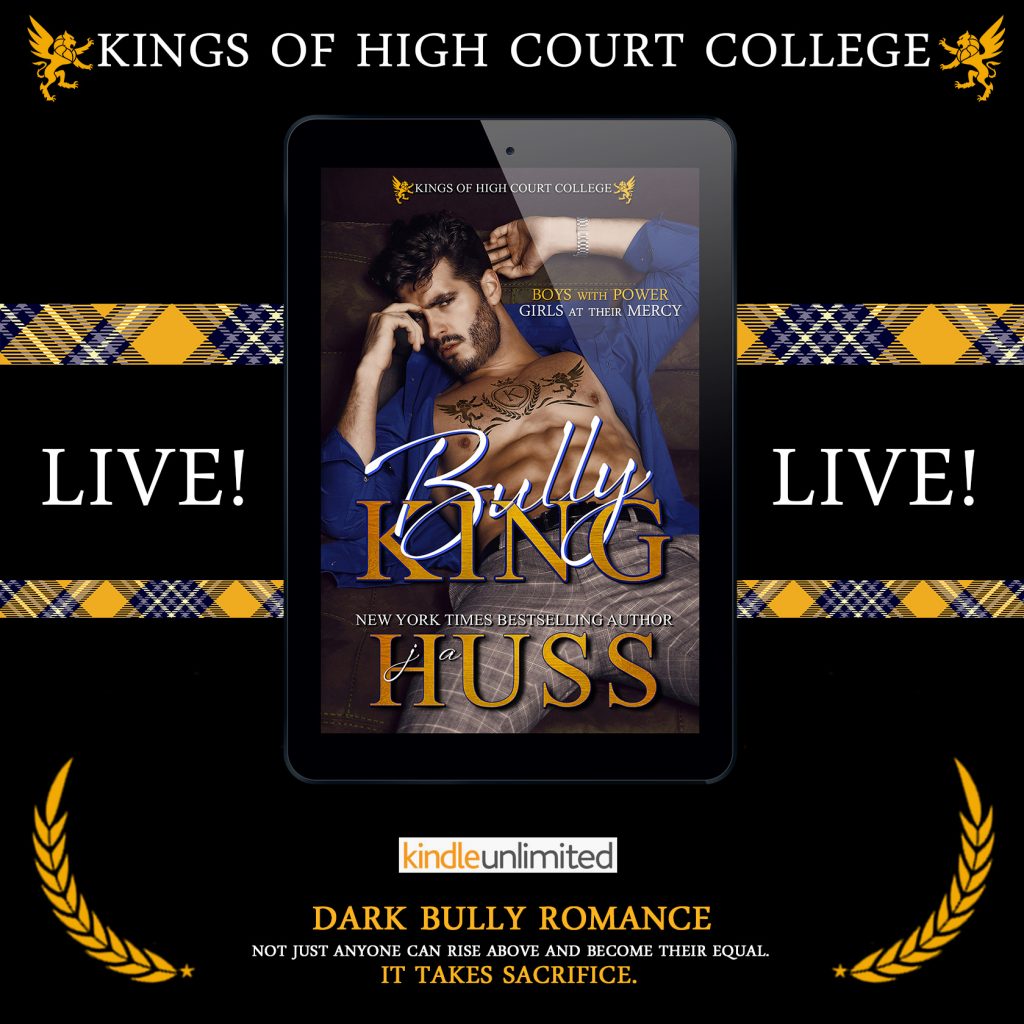 GIVEAWAY
To celebrate the release of Bully King, JA Huss is giving away a $50 GIFT CARD, SIGNED BOOK, and SWAG.
Enter here for a chance to win:
a Rafflecopter giveaway
TEASERS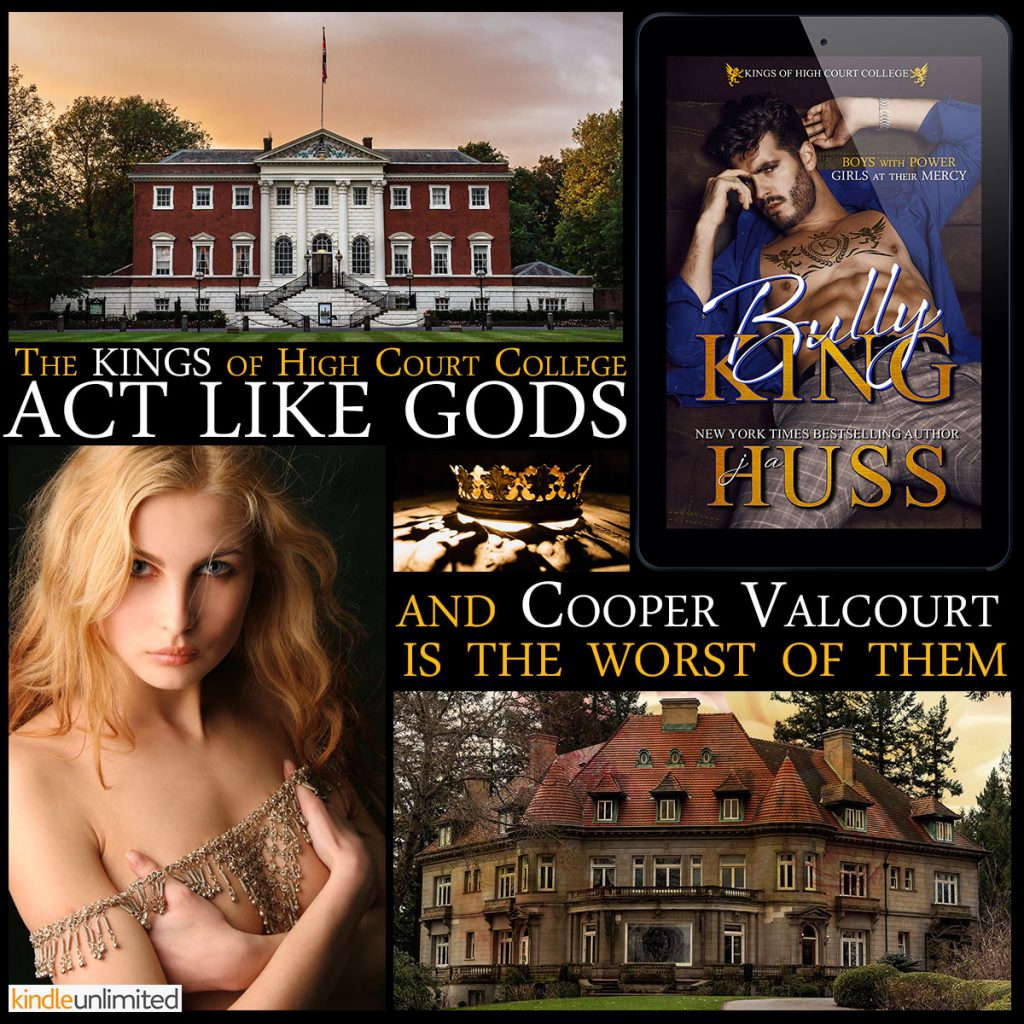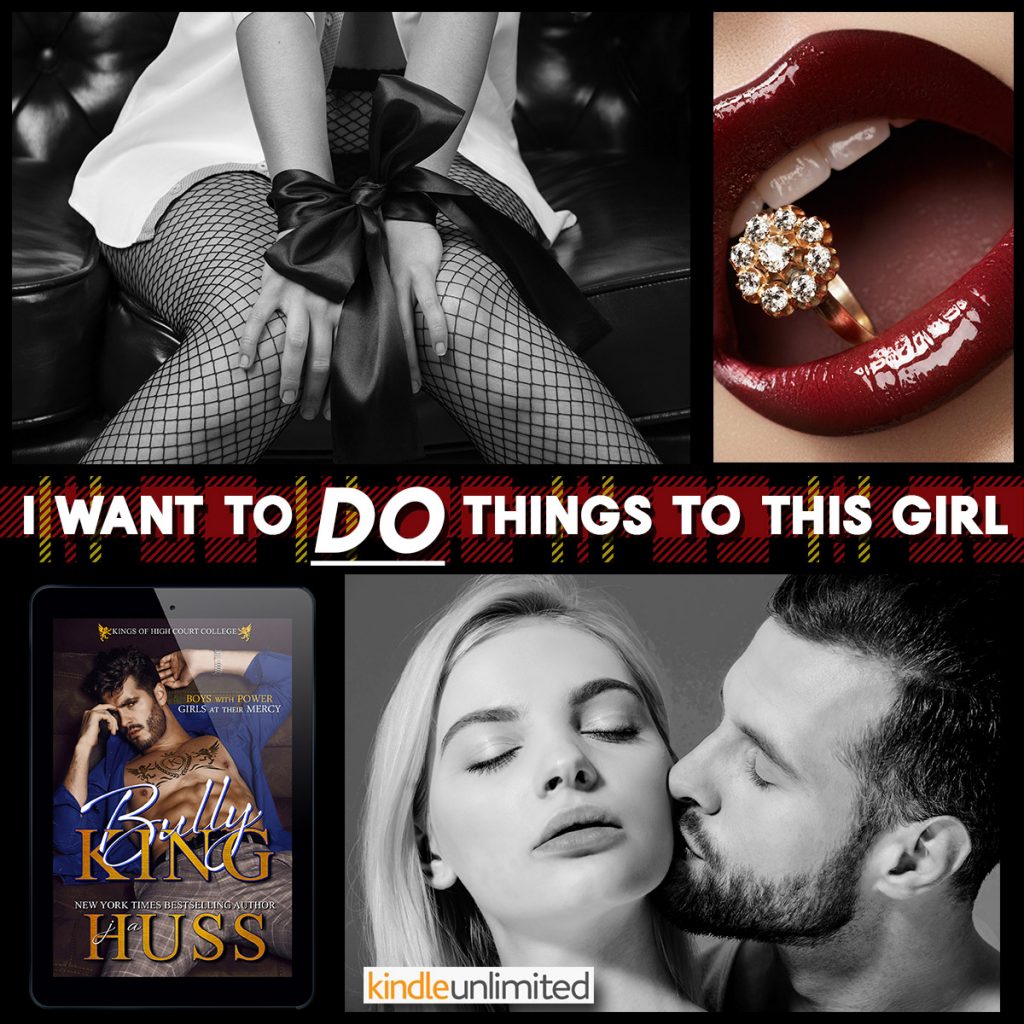 PRE-ORDER RULING CLASS, releasing September 2nd!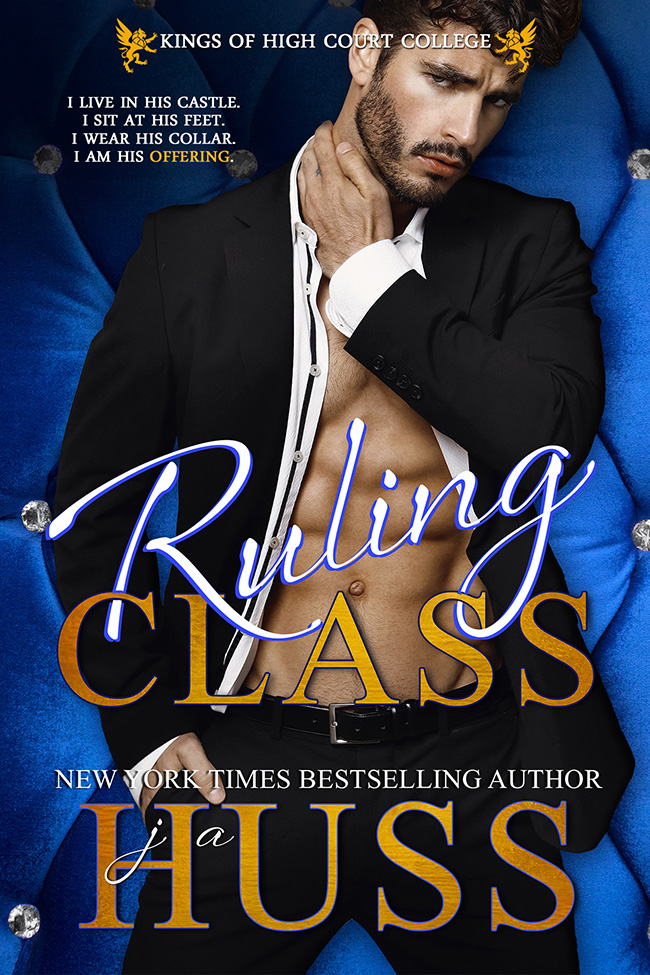 COVER PHOTO: Wander Aguiar
COVER MODEL: Andrew Biernet
DESCRIPTION
You want the diamonds?
You want the mansion?
You want the lake, and boats, and the cars?
You want the security?
And the man?
Then you do what you're told.
I live in his castle.
I sit at his feet.
I wear his collar.
I am his offering.
The Chosen Ones… the Ruling Class.
They are a breed apart.
And yes, that pedigree matters.
Not just anyone can rise above and become their equal.
It takes sacrifice.
Ruling Class is the final book in the Kings of High Court College Duet by New York Times bestselling author, JA Huss.
It is a dark bully romance with triggers
.
FREE TO READ IN KINDLE UNLIMITED
PRE-ORDER LINKS
UNIVERSAL:
https://mybook.to/RULINGCLASS
Audible: COMING SOON
Amazon US:
https://amzn.to/39E7S3x
Amazon UK:
https://amzn.to/2XpxKLZ
Amazon CA:
https://amzn.to/3jVoRTJ
Amazon AU:
https://amzn.to/3hSFOfF
ABOUT THE AUTHOR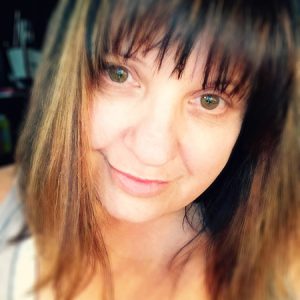 JA Huss is the New York Times Bestselling author of 321 and has been on the USA Today Bestseller's list 21 times in the past five years. She writes characters with heart, plots with twists, and perfect endings.
Her new sexy sci-fi romance and paranormal romance pen name is KC Cross and she writes novels and teleplays collaboratively with actor and screenwriter, Johnathan McClain.
Her books have sold millions of copies all over the world, the audio version of her semi-autobiographical book, Eighteen, was nominated for a Voice Arts Award and an Audie Award in 2016 and 2017 respectively. Her audiobook, Mr. Perfect, was nominated for a Voice Arts Award in 2017. Her audiobook, Taking Turns, was nominated for an Audie Award in 2018. Five of her books were optioned for a TV series by MGM television in 2018. And her book, Total Exposure, was nominated for a RITA Award in 2019.
She lives on a ranch in Central Colorado with her family.
AUTHOR LINKS
Bookbub
➜
http://bit.ly/1SW2AB0
Instagram
➜
http://bit.ly/350gUF5
Website
➜
https://www.jahuss.com
Amazon
➜
https://amzn.to/2uO4NgR
Audible
➜
https://smarturl.it/p994eo
Facebook
➜
http://on.fb.me/PPpkr3
FB Fan Group
➜
http://bit.ly/3697FlW
Twitter
➜
https://twitter.com/JAHuss
Instagram
➜
http://bit.ly/350gUF5
JA Huss New Release Alert
➜
http://eepurl.com/JVhAr
My Review of Bully King
Bully King by J.A. Huss

My rating: 5 of 5 stars. ⭐️⭐️⭐️⭐️⭐️
Sex, Lies and Secret Societies!
It makes perfect sense that J.A. Huss can do great Bully romance. Many of her other books contain entitled alpha males and we know that she can do terrific and complex storylines, and this book lived up to my expectations. The characters were terrific. I never knew who was telling the truth and who was lying and what their intentions were in the things they were doing.

The Hero, Christopher "Cooper" Valcourt is seen at first to be a rich spoiled jerk and my opinion of him didn't change through much of the book, though I often had trouble seeing just what his motives were. Even so, it wasn't hard to see that he kept doing the wrong things when it came to the heroine Cadee.

We find out early on that Cadee Hunter knew Cooper and his two best friends Ax and Lars three years ago when they first bullied her, then they each had some sort of sexual relationship with her. We also find out that Cooper talked Cadee into doing something she regrets when she was in trouble. It seems that after Cooper was done with Cadee, he basically told her to get lost because he never wanted to see her again. So there is no love lost between the two of them.

Cadee has lived on the campus of High Court Prep her entire life, but she was homeschooled. Her father was the groundskeeper and when he died, her mother became a cook on campus. She was fifteen when Cooper, Ax and Lars were seniors and they were together. Now Cadee is eighteen and the guys just finished their Junior year at High Court College which is over the wall from High Court Prep, so they hadn't seen her around like when they were at the Prep school.

Cadee's mother just passed away and Cadee is afraid Chairman Valcourt will make her leave her attic apartment in one of the buildings. However, he offers her a scholarship if she works as a server in the summer camp for the college secret society, which means living in their home.

There are a lot of intricacies in the plot because there are so many secrets. The reader is not made aware of the truth until it is revealed late in the book. The summer camp is really a like a fraternity/sorority rush. They actually call it the Fang and Feather Summer Rush. It takes place in a secret location every day and the freshman participants and even the servers are treated almost like they are being hazed. Cooper and his friends are the bully kings in charge of the festivities.

I enjoyed the book and it was nice that it had an ending and not a cliffhanger. Though there still are some questions left unanswered for book two in the duet. Such as what was everyone so afraid of? What happens in the crypt at the end of summer rush and did Cooper do something to make Isabelle go crazy that first night after he bought her in the auction or was it just because she was trapped? This book is more story than steam, but there is some heat between the two main characters and the story was excellent.

I voluntarily read & reviewed an advanced copy of this book. All thoughts & opinions are my own.

Blog|Goodreads|Facebook|Instagram|Twitter|BookBub

View all my reviews