🔥🔥 HOT NEW RELEASE 🔥🔥
Heartbreak Me, Book One in the Heartbreak Duet, by T.L. Smith is LIVE! Heartbreak never felt this good…
One-click today!
BLURB
He kidnapped me.
That was how I met Atlas Hyde.
A man known by many names and admired by all.
But most didn't know he was ruthless, conniving, and always got what he wanted.
No matter the cost.
I was a good girl.
Never in trouble with the law.
Never took drugs.
Always did precisely what was expected of me.
Even with his hand around my throat and words that cut sharper than knives, I couldn't help but wonder what happened to this beautiful man to make him that way.
That wonder disappeared when he threatened to kill my sister if I didn't follow his dark demands.
The good girl I once knew had now been buried alive beneath this game of hatred and lust.
And I had a feeling Atlas Hyde never lost.
Cover photo by
Michelle – Lancaster
from Lanefotograf
Cover designer by Tash Drake from
Outlined with Love Designs
Cover Model: Chase Cassells
PURCHASE LINKS
Apple ➜
https://apple.co/3b5txAJ
Kobo ➜
https://bit.ly/2VXLY6i
B&N ➜
https://bit.ly/2WvahaJ
Amazon ➜
https://amzn.to/3bA1Dgv
Amazon AUS ➜
https://amzn.to/3bJkBBL
Amazon UK ➜
https://amzn.to/3fT3YXt
Amazon CAN ➜
https://amzn.to/365e4jn
Google ➜
https://bit.ly/3eeQZNM
GR ➜
https://bit.ly/2LOFYH1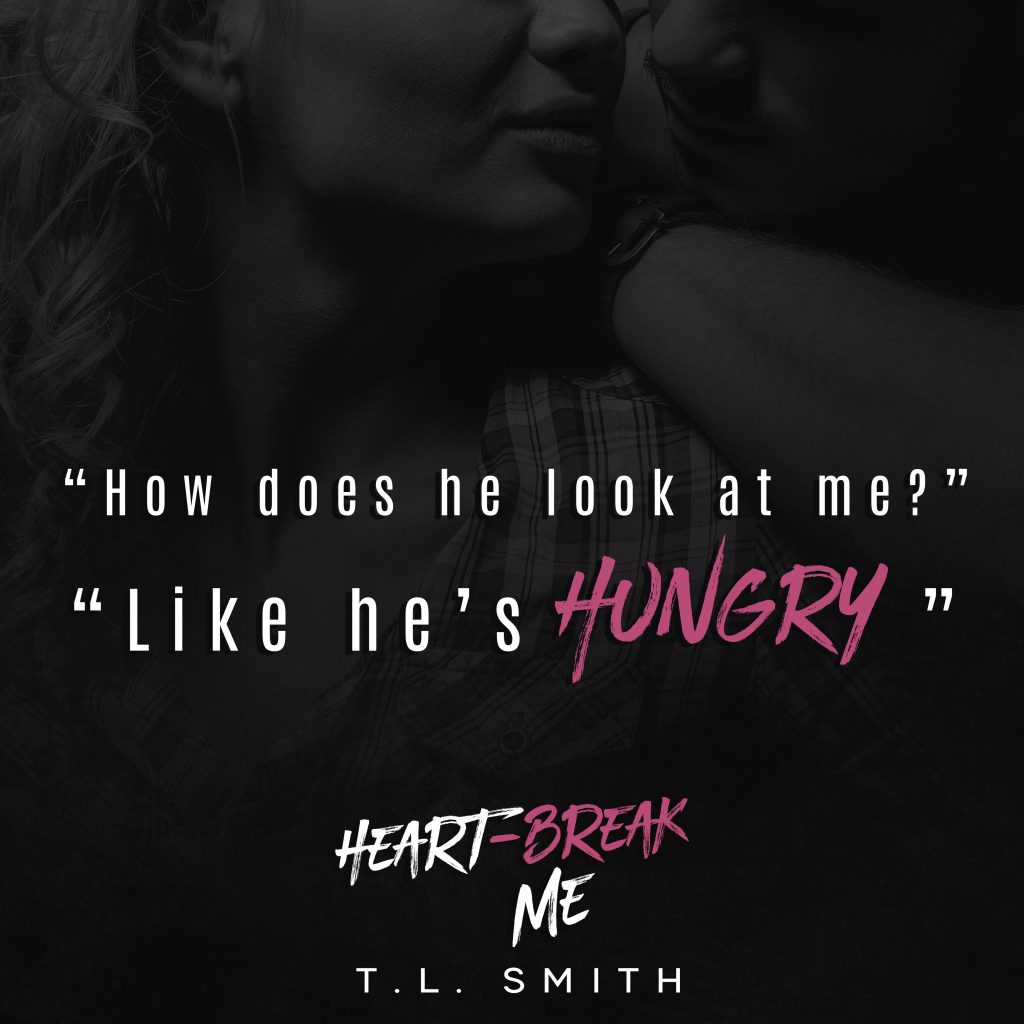 ABOUT THE AUTHOR
USA Today Best Selling Author T.L. Smith loves to write her characters with flaws so beautiful and dark you can't turn away. Her books have been translated into several languages. If you don't catch up with her in her home state of Queensland, Australia you can usually find her travelling the world, either sitting on a beach in Bali or exploring Alcatraz in San Francisco or walking the streets of New York.
AUTHOR LINKS
FB Page –
http://bit.ly/2jcw1J3
Instagram –
http://bit.ly/2Bk4qgr
BookBub –
http://bit.ly/2AkHdJp
Reader Group –
http://bit.ly/2zHDe6N
Amazon –
http://amzn.to/2kLyKtm
Newsletter sign up –
http://www.tlsmithauthor.com/newsletter/
Text TLSmith to 312-728-8217 (US only for new releases of mine)
My Review of Heartbreak Me
Heartbreak Me by T.L. Smith

My rating: 5 of 5 stars. ⭐️⭐️⭐️⭐️⭐️
Dark blackmail romance!
I enjoyed this dark romance which started out as a captive romance but ended up being more of a blackmail romance. The Hero, Atlas is owed over a million dollars from the heroine Theadora's sister. Atlas is holding the sister, Lucy and threatens to kill her if Theodora doesn't pay him back the money. She can't pay, so he has her work it off by doing tasks for him.

Atlas has his hands in a lot of illegal activity and owns some legitimate businesses as well, the main one is a Casino he built from the ground up. He likes to always know what his enemies are up to and he uses people like Lucy and Theadora to his advantage. Like having them distract big winners at the casino so they start losing, or attend society functions and listen in on conversations of his rivals. He is not above having a woman use her body to get information he needs.

Atlas grew up with only his father after his mother left when he was just a baby. His father was abusive and merciless and Atlas vowed never to be like his father. He has rules to live by and he never gets involved with women other than for immediate gratification. However, his attraction to Theadora threatens his rules.
Atlas is brutal and cruel but also super hot. He is tall, tatted and tantalizing, a combination which Theadora finds herself attracted to despite herself, even though she wants him out of her life as quickly as possible. Atlas proves to also be very possessive and when he considers something his, he doesn't allow anyone to get in his way.

The book certainly held my interest the entire time. The romance was steamy but not as steamy as many dark romance books I have read. I give it a heat index of three out of five flames (🔥🔥🔥). However the storylines about Thea's sister and Atlas's fear of commitment were extremely good. I didn't completely understand one part of the ending though. Hopefully my questions will be answered in the next book! It was a cliffhanger so it should pick up right away.
I voluntarily read & reviewed an advanced copy of this book. All thoughts & opinions are my own.

Blog|Goodreads|Facebook|Instagram|Twitter|BookBub

View all my reviews