Their Will Be Done by Logan Fox

My rating: 5 of 5 stars.
"Monsters breed Monsters"
In a word, Spectacular! I titled my review of the first book something like "so wrong and yet so right" and that statement was all I could think of when I finished this one as well. There were so many things I shouldn't like about these characters and I am liking them anyway. Zachary, Reuben, Cassius and Apollo are all so broken and damaged that it borders on psychotic, especially since they are hyper focused on getting revenge for being abducted and used as sex slaves in a dingy basement for years as children.

There was a lot of homoeroticism in this book which didn't really surprise me too much since the main plot was about the young boys abused by the clergy. Also there are quite a few triggers, including abuse, non-consensual sex, whipping, spanking, burning with cigarettes and more. However, the storylines were utterly fascinating.

The world building and character development were great. In Their Kingdom Come, the guys told the heroine, Trinity about how Cass and Reuben were abducted ended up in that basement and some of the abuse they suffered. In this book she is told more, including a few surprise reveals. Trinity was still wavering between the belief that Father Gabriel was behind it and that he is still a good man.

Trinity also finds out some things about Father Gabriel that are pretty shocking. Trinity seemed extremely naïve and unable to make up her mind about anything. Though I suppose that can be attributed to growing up with her strict parents who made all her decisions for her. She was a good girl, homeschooled and raised by a Priest and his Wife, so she wavers between thinking she is bad for the thoughts and feelings and just enjoying them.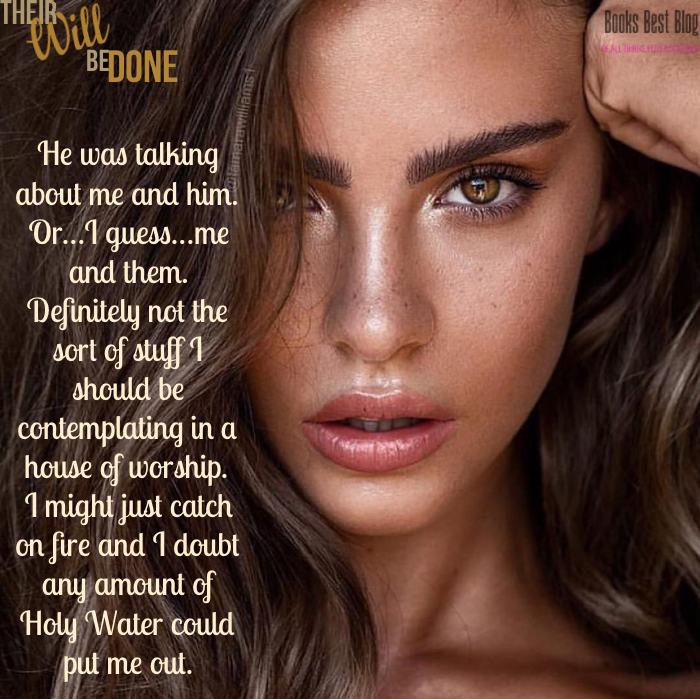 Trinity seems to like Reuben the best out of the four guys, but she has encounters with each of them as she tries to help them get information that will either prove father Gabriel innocent or guilty. What she does uncover keeps here ambivalent about what she should do. The guys, especially Zachary who is the de facto leader, are also uncommitted as to whether they can trust her or not. Sometimes they act like they have feelings for her and other times they seem to be using her.

The end is crazy surprising! It is all that and a bag of chips. I was biting my nails as I read the last quarter of the book and definitely could not put it down. I need that next book right away. I hope it's coming out soon. I know Logan Fox probably is just starting on it, but I want it and every future book in this series right now. I could read them straight through without sleeping.

I love the forbidden darkness of these guys and I usually hate when a heroine wavers like Trinity did, but in this story it made it even better. She never knows if she wants to wash her hands of these guys or go all in and be a hedonist and just take whatever they offer.

I voluntarily read & reviewed an advanced copy of this book. All thoughts & opinions are my own.

Blog|Goodreads|Facebook|Instagram|Twitter|BookBub

View all my reviews