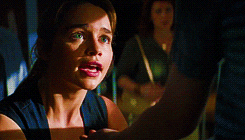 Day Zero by Kelly deVos

My rating: 5 of 5 stars


WARNING! THIS IS NOT A DRILL

I generally hate anything that even hints at involving politics, whether it be a political thriller, a political scandal story or even a romance involving any sort of politician. Frankly it all bores me. However I really liked this survival/chase story coming on the heels of a politically based attack on the country's banks. It sort of reminded me of the Terminator movies. There was no evil Sentient machines trying to take over, but the main characters are running for their lives and being chased by a foe that can't seemed to be stopped.

In this story the evil sentient machine was replaced by the new president of the United States, Ammon Carter. The book takes place in the not too distant future and there are two political parties that exist. One is called "The Spark" whose candidate was David Rosenthal, his campaign slogan was "Everyone's for Rosenthal". The Spark was all about everyone being equal. The Spark has been in power for ten years and that party is all about taking from the rich and giving to the poor.

There are still rich people, but it seems that the party has done so much giving to the poor that the country is now in a New Depression and some people are disgruntled. President Carter's party is called "The Opposition" and since "Everyone's for Rosenthal", it is widely known that Ammon Carter and the Opposition cheated to get into power.
Jinx Marshall is the main character. She is a 17 year old girl from a broken home. Her Dad Max Marshall was a genius that got obsessed with the end of the world as we know it and got really int survivalism. He taught his family all sorts of survival skills, took his family along to survivalist conventions, simulations and gave them constant drills until Jinx's Mother couldn't take it anymore.

Her Mom is now married to the Head of Security at a large bank. Jinx and her younger brother Charles live with them and her stepsister Mackenna. The three are together when banks across the country are blown up. They have to get back together with their family, including Mackenna's brother Toby who is at the University. Jinx finds some code in a computer that has something to do with the attacks and they end up running from an agent of the Opposition who is singular in his mission to find them.

There are so many twists and turns in this book, but it is a book I couldn't put down until I literally fell asleep reading. The characters are awesome, Jinks was trained for the situation so she can handle weapons and can fight, but she is still a teenage girl so she just wants things to go back. Charles is a kid with type 1 diabetes who will eat sweets whenever he can, he also has a fascination with growing things and is so cute at times when talking about gardening or species of plants. Mackenna wants to be a journalist and was a huge supporter of Rosenthal.

The book was just very good. It kept me guessing the entire time. I had no clue who was good and who was bad. The parents were keeping secrets from the kids and I was getting so frustrated but loving it also. There wasn't really a cliffhanger, it was one of those things where you could technically consider it an and but also a new beginning. I will definitely read Day One.

Many thanks to Netgalley and Harlequin Teen for providing me with an ARC in exchange for an honest review.


View all my reviews